It's a new year and many of us are looking to update our homes. Naturally, one of the first places we think about is the kitchen. So we wanted to give you some inspiration and some ideas on what to consider when coming up with your new kitchen design.
We'll start with some general trends that we've noticed and then move into more detailed areas like the cabinets, seating and appliances.
General Trends
Rustic, Raw & Reclaimed Materials
Rough-hewn materials achieve a very vintage feel versus the modern materials that were quite popular just a few years ago. This style includes:
Rough cuts of stone and wood
Recycled sheet metals
Industrial-style fixtures
Minimalism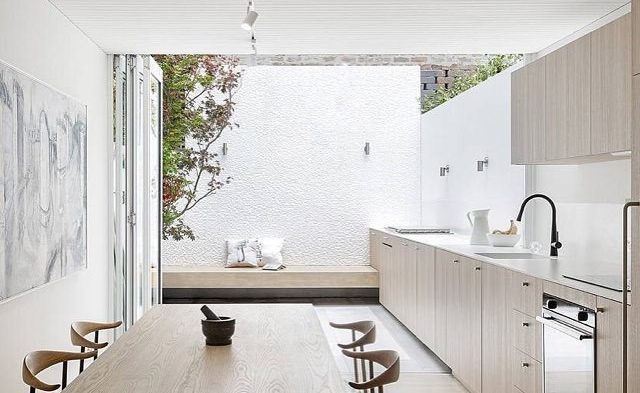 "Less is more" doesn't mean being without the necessary elements. Think more along the lines of concealed and clever storage, integrated appliances that are more hidden, and a more open layout.
It seems a bit in contrast to the rustic and raw trend, but there are actually beautiful opportunities to meld the two.
Kitchen Islands
Islands have been gaining popularity over the last couple of years. Lately, we've been seeing them become more integrated with the rest of the kitchen, not just a slab of counter space. People have been incorporating their sinks, stoves, ovens, and even dishwashers into the islands. Think about your "work triangle" when discussing how to utilize your island. It's a clever way to utilize your space and keep the workflow within the kitchen optimized.
Pendant Lighting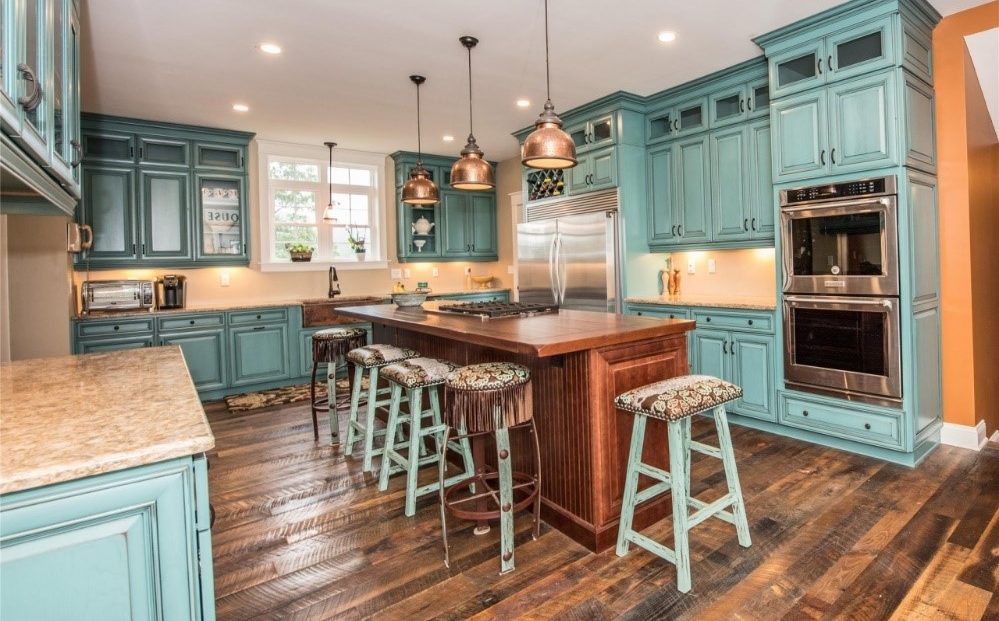 Lighting is a major factor in the design and layout of your kitchen. Pendant lighting has been a fun way to let homeowners add something eye-catching to their design without getting in the way of function.
Concealed Everything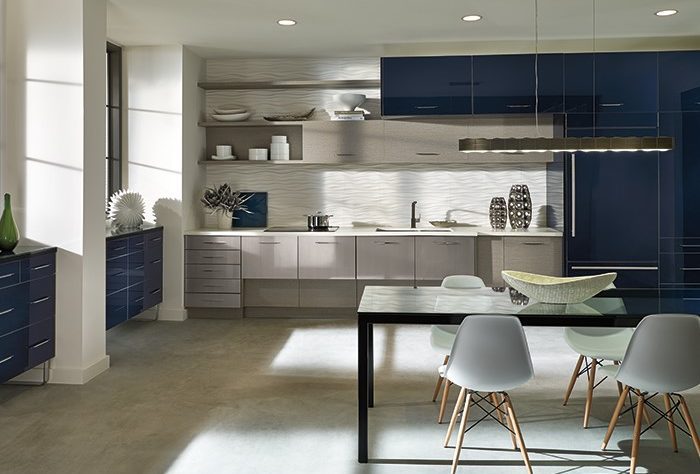 Bespoke storage systems and incorporated appliances are an aspect of keeping everything hidden from view. But it also includes creating focus lines in your kitchen that help conceal things like your stove range. Having the range hoods hidden in false cabinets or installing a countertop-depth fridge to hide line breaks are some of the ideas we like best.
Kitchen Color Schemes
For the last few years we've seen the white kitchen as the big design everyone went for, but not anymore. Things are now going towards including vibrant colors and accents to your kitchen to give it focus and interest.
Navy Blue
Bringing a deep navy blue into the kitchen can help make the space seem more calming and inviting.
Often used as an accent color, try using the blue in your cabinets, your backsplash, or even in the upholstery of your seating.
Black
Black has been making a real comeback in the kitchen recently. As a rebellion against the previous all-white trend, black can add intensity and sophistication to a kitchen. And we've been seeing it paired with two colors primarily.
Black and Gold
Nothing says classy sophistication like black and gold. Check out how beautiful the scheme looks when paired with minimalism elements.
Black and White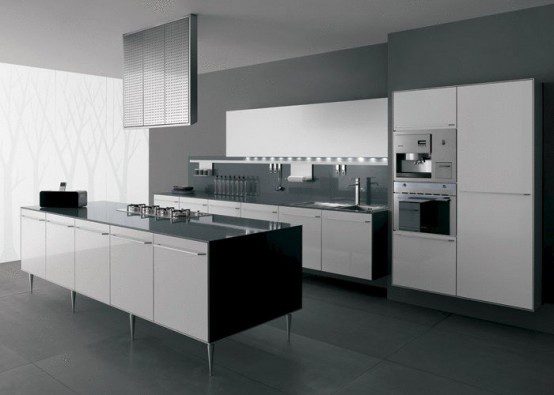 For a classic and clean contrast, it's hard to beat the black and white scheme.
Hunter Green Kitchens
As another color to use for accents and focus in your kitchen, green provides a very natural and inviting feel. As well as making the entire space feel luxurious and modern, green is a popular kitchen cabinet and accent color.
High Gloss vs. Matte Finish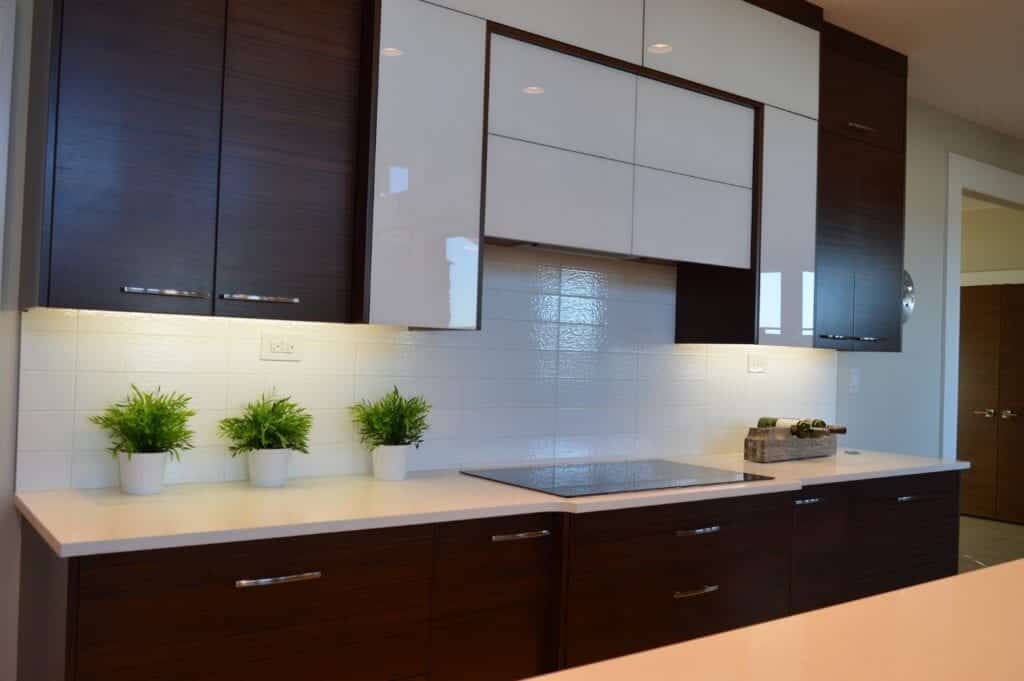 Having a completely glossy kitchen is incredibly classy, while a matte finish can make your kitchen feel more subtle and sophisticated. However, if you really want to give your kitchen a level of depth, try incorporating both for an interesting texture breakup.
Countertops
For the longest time granite was the way to go with your countertops. But granite has been losing ground in popularity. Here is what we're seeing and looking forward to this year in countertops.
Marble
Marble is incredibly beautiful and makes for some incredible kitchen countertops. Add to the fact that it's not terribly expensive and it's easy to understand why marble is making a comeback.
Concrete Countertops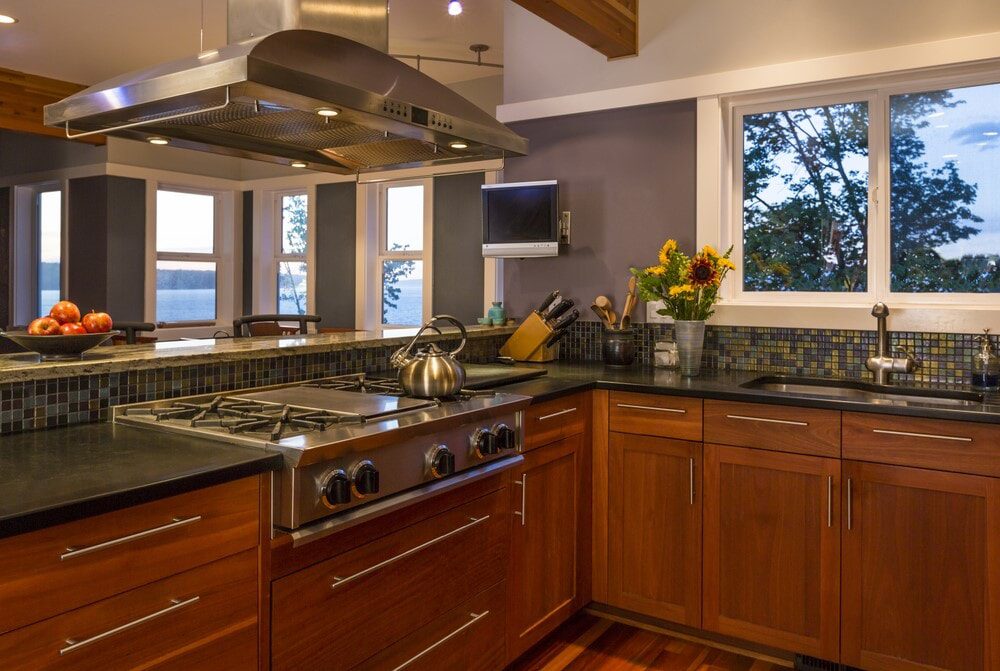 It may sound strange, but concrete countertops can be extremely beautiful. The ability to control the patterning and color of the concrete, as well as the finish, means you can get a highly customized look for your kitchen. Plus, when sealed properly, concrete can make your work area last for a long time.
Wood/Butcher Block Countertops
A wood countertop has a lot going for it. It needs very little maintenance — just the occasional mineral oil coating — and wood is very durable. Plus, just like this galley kitchen (pictured), it adds a great natural and warm feeling to your space.
Terrazzo Countertops
Widely popular in the 1950s, and also making a comeback in the 1980s, terrazzo is a composite of precast and other material chips like glass, marble, and granite to create a mottled visual effect. Terrazzo countertops can be quite beautiful and provide a color breakup in your kitchen layout.
Backsplash
Another kitchen trend we've been seeing is people abandoning the subway tiles in exchange for more modern kitchen ideas in the backsplash.
Tall Backsplash
Instead of just letting your backsplash be a boring transition between your countertop and your cabinets, try making a statement. Let your backsplash be another potential focal point in your kitchen remodel, and let it help shape your kitchen layout.
Single Slab Backsplash
Instead of the standard tiling for your backsplash, consider some of these options. This year we're seeing designers utilize the backsplash as more of a statement for the kitchen. And single slabs provide an elegant and simple element to the kitchen.
Herringbone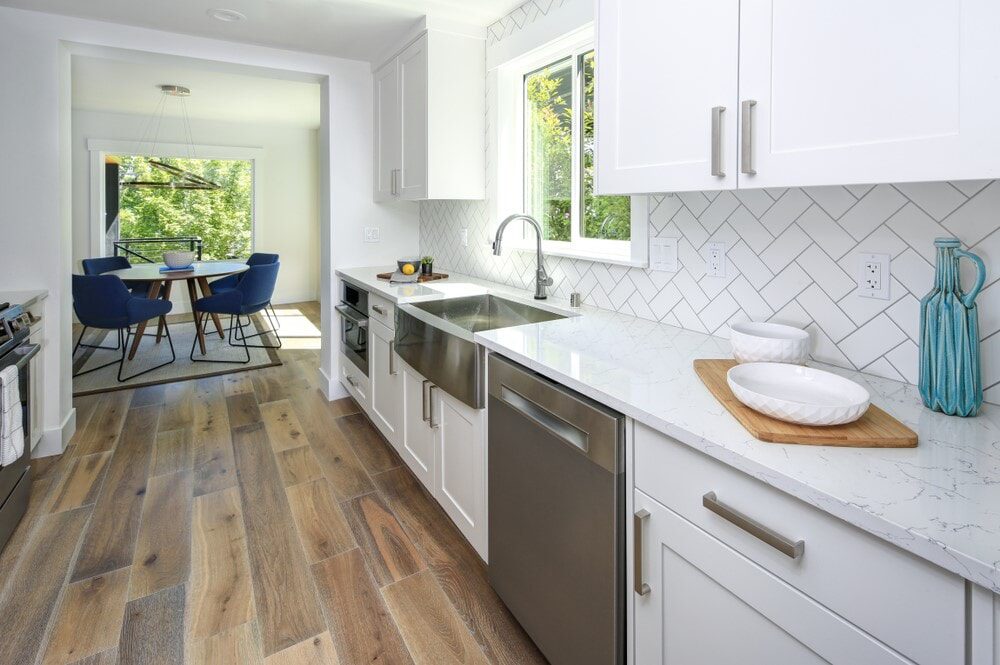 If you decide to keep with the tile option but want something interestingly subtle and understated, a herringbone design can be the perfect way to go.
Sinks
The sink is a hardworking part of your work triangle and deserves a lot of thought while you're looking at kitchen design ideas. Here are great sink ideas for 2019.
Feature Taps/Hardware
There are a lot of stylish faucet and sink designs out now that people are using for great accents of color and texture including copper faucets, pewter and gunmetal, and even black metal finishes.
Covered Sinks
Covering your sink has the added benefit of not just creating more work/prep space, but also giving you new elements like a tray to hold your colander. It also means having a clever way of hiding dishes that need washing.
Trough Sink/Multi-Use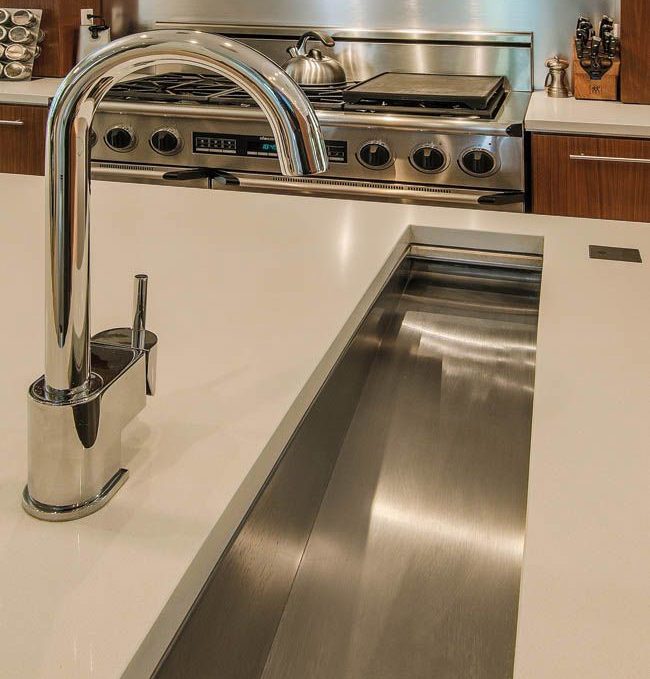 Adding a trough sink to your kitchen island makes the social element of your kitchen more diverse. Keep some beer or wine cooled, have an extra space to rinse food for prepping, and more — it never hurts having some extra sink space.
Storage Space
Keeping your kitchen organized and able to handle all your different appliances and work needs can be a challenge. Here is what's making waves in 2019 for storage in your kitchen.
Concealed Appliances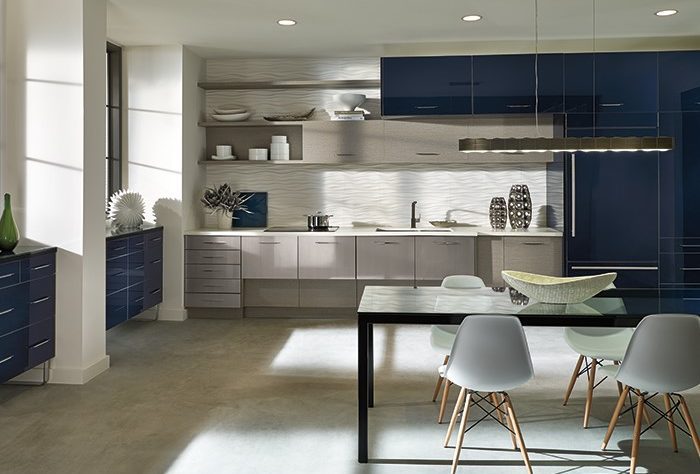 Working your appliances into your design hides things like your fridge and helps keep the visual focus in your kitchen where you want it. Instead of having your eyes drawn naturally to a stainless steel fridge in the corner, your gorgeous countertops or backsplash can steal the show.
Open Shelving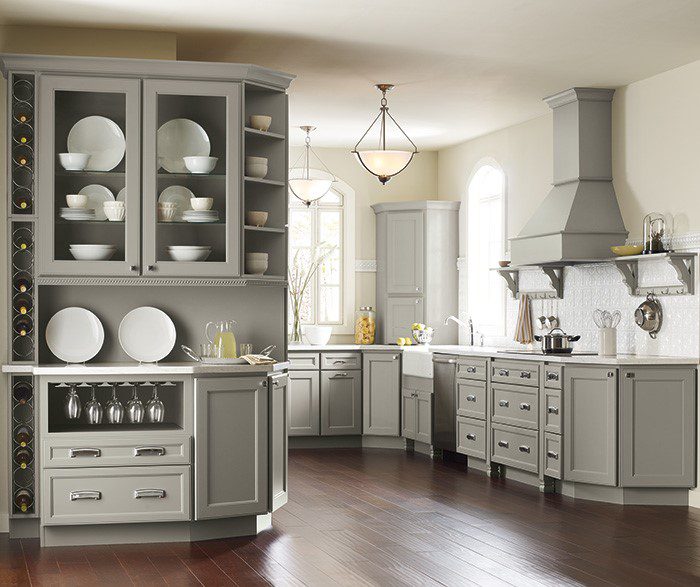 There are a ton of ways to work shelving into your kitchen. Whether it's floating shelves, simple brackets, or more elaborate structures.
Glass Cabinets
We're seeing people favoring this trend, like the open shelving, to display parts of their kitchen, as opposed to everything being concealed and hidden.
Two-Toned Cabinets
Try using contrasting colors in your kitchen to break up the space. And in homes with lower ceilings, this concept can be great for giving an illusion of greater height. Upper cabinets may be painted white and lower cabinets a darker color, like navy blue or hunter green.
Bespoke Pantry
You can create a bespoke, or unique, pantry by installing custom shelves and drawers to what you already have to transforms your kitchen workspace. Keeping your ingredients stored at the right temperature and totally organized.
Bespoke Storage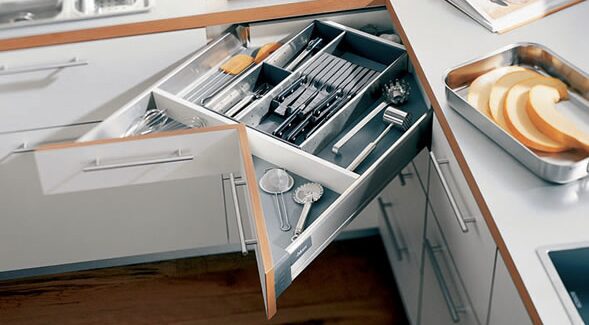 Fit storage in places that were previously often wasted space. Being creative and making tiny adjustments can really help maximize the use of space in your kitchen.
Seating
The kitchen is one of the central social locations in your home, and key space for entertaining friends and guests. Check out these ideas on how to accommodate your seating needs.
Statement Stools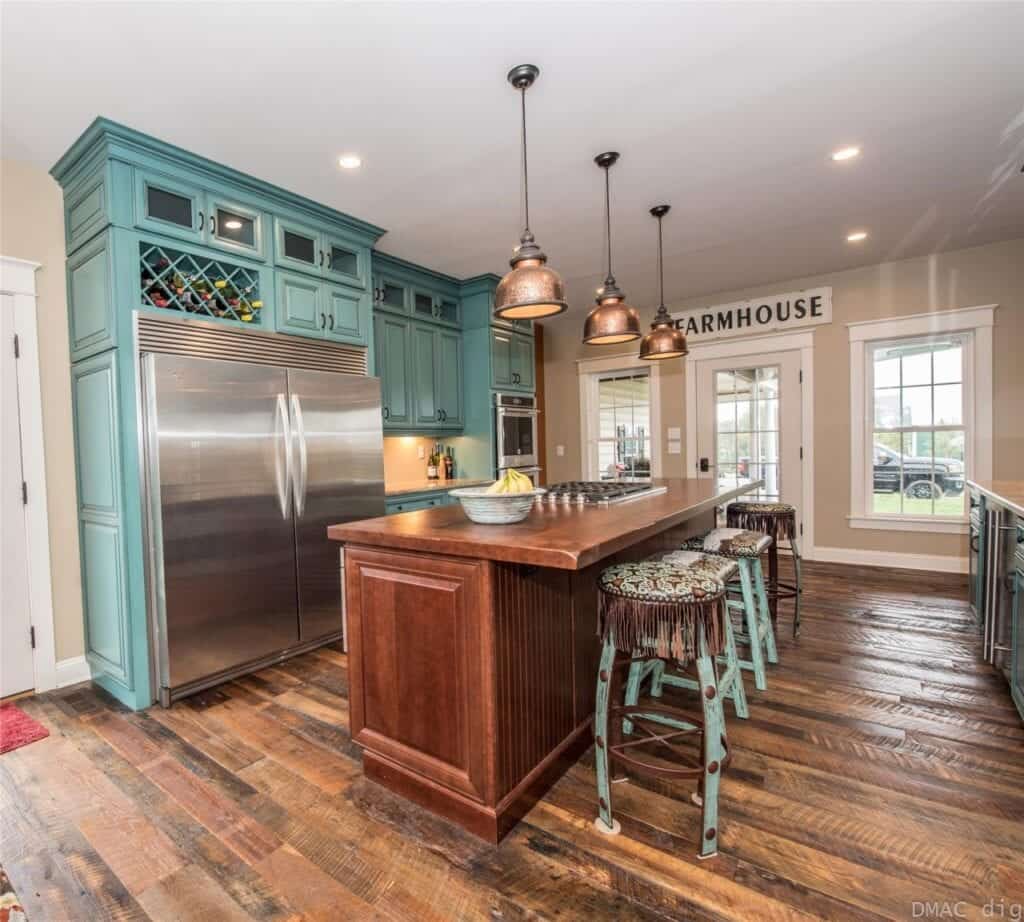 Using exciting colors and unique designs in your barstools can provide pops of texture, color, and focus in your kitchen.
Benches & Banquet Seating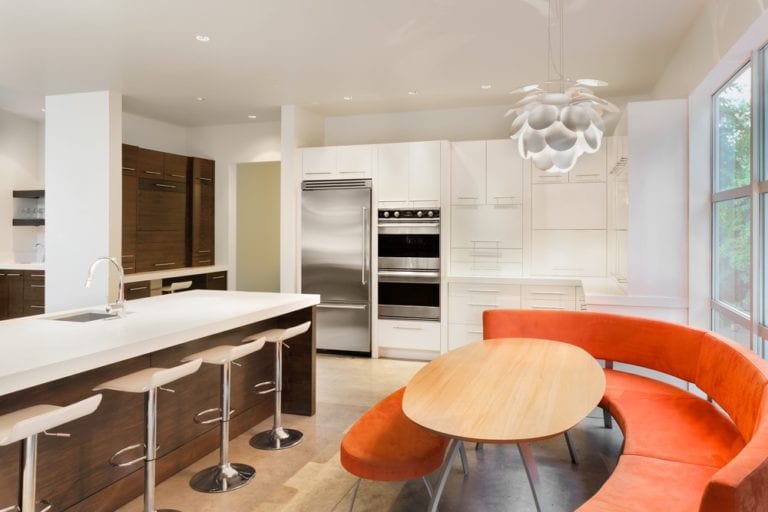 Don't let your seating just stand alone. Built-ins, including banquet and bench seating, create a more relaxing and welcoming place for your guests to put their feet up.
Smart Kitchens
As more appliances become "smart" you'll soon be able to manage almost your entire kitchen from your phone. Smart fridges, smart faucets, and automatic lighting are some of the most popular items to add right now.
Now go out and start planning your next kitchen remodel! Remember, whether you're working on a small kitchen, going for a modern look, a classic/vintage feel, or going minimal, talk to Red Rose Cabinetry to help make your next kitchen beautiful and functional.