We've all been there—you're in the middle of making supper and can't seem to find that jar of spaghetti sauce you know you have. It's hidden in the depths of your kitchen cabinets, for sure. You think to yourself, "There's got to be a better way to organize this kitchen."
Luckily for you, a custom cabinet manufacturer can reduce this frustration and create beautiful kitchen cabinets that are practical and stylish. You've come to the right place!
Here at Red Rose Cabinetry, we're the experts in designing custom cabinetry that matches your unique style and décor, plus gives you ample space for optimizing your cabinets. Schedule your free design consultation today and learn how we can help end your disorganized exasperation.
1. Install Custom Cabinetry
If you just bought a new home or are considering a kitchen remodel, it's easier for a custom cabinet manufacturer to help optimize your space. In older houses with limited space, good utilization of your cabinet area is a challenge. And if you have an oddly shaped space for kitchen cabinets, it can be difficult and confusing to try to optimize the space on your own.
A custom cabinet company can create pieces to the exact dimensions you need and even can make them match your existing décor or the vision you had for your remodeled look. At Red Rose Cabinetry, we'll help maximize your kitchen space and solve your storage problems with our custom cabinets.
2. Create Divided Drawers
Another way a kitchen cabinet manufacturer can optimize your kitchen storage issues is with divided drawers. Drawers with dividers—which could be vertical, horizontal, or diagonal—make storage a breeze. You can organize silverware, chef knives, spatulas, serving spoons, and other little kitchen gadgets.
You may also consider a sink tip-out drawer. This drawer is perfect for storing bottle brushes, pot scrapers, and sponges. Plus, it will make your kitchen look tidier since you won't have those items laying around your sink.
And if your kitchen is really low on space, installing toe-kick drawers at the bottom of your cabinets can provide the extra space you need for thinner items, like cutting boards.
3. Optimize Your Kitchen Features
If your kitchen features a built-in home bar or butler's pantry, there are ways to optimize this space too. Ask your cabinet designer to install glass-front doors so that you can feature a few special glasses or prized items. The rest of your cups and glassware can go behind solid doors, so everything looks organized.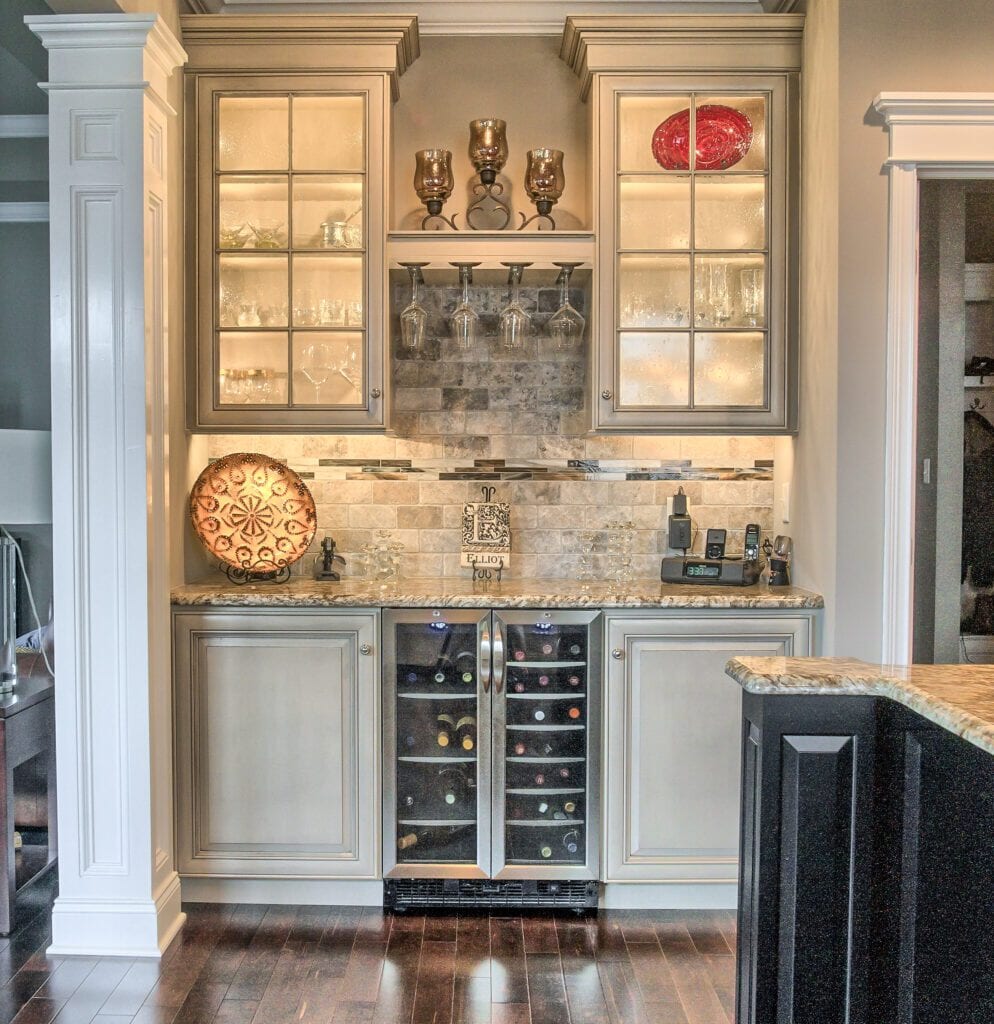 Another kitchen feature you can have your cabinet manufacturer design for you is a chic coffee bar. Store your coffee maker, espresso maker, coffee beans or grounds, and coffee mugs right in one central location. You'll get to be your own barista! But having all of your coffee or tea-making items in one place can help enhance your kitchen.
4. Kitchen Storage Solutions
The beauty of working with a custom cabinet manufacturer to optimize your space is that you can create customized storage solutions. For example, consider creating a section of your cabinets with open slots so you can store baking sheets, cupcake tins, and cake pans on their sides. This storage method makes it easier to pull out the pan you want without knocking over the stack of pans on top of it.
Another storage solution is to get your pots and pans out of the cabinets and hang them up instead. For example, most saucepans have a handle that makes them easy to hang from hooks or a custom-made hanging pot rack. And don't forget about the space above your cabinets too. Store infrequently used kitchen appliances and cookbooks up there for when you need them.
5. Organize Cabinet Contents
To properly enhance your kitchen storage space, you also need to consider organizers inside your cabinets. For example, installing a turntable or lazy-susan inside a cabinet near your stove allows you to store spices, oils, bottles of vinegar, and other sauces to find them easily when you need them. A quality cabinet maker will listen to your design ideas and help bring those to life.
As you begin to place your contents back inside the cabinets after our expert installers finish their job, don't forget to label everything to know what each item is. After all, all of those white baking powders can look so similar! Additionally, keep like items together:
Baking supplies in a cabinet near your stand mixer
Cutting boards and knives by a large counter for food prep
Spices, pots, and cooking utensils close to the stove for cooking
Sponges, dish soap, kitchen towels, and drying racks belong by the sink
With high-quality cabinets and excellent organizing skills, your kitchen will be tidy, organized, and beautiful.
Looking for a Custom Cabinet Manufacturer? Call Red Rose Cabinetry Today!
As a highly recommended custom cabinet manufacturer, Red Rose Cabinetry can help make your kitchen dreams come true. With various cabinet, handle, and door styles, you are sure to find suitable kitchen cabinets to match your style and décor. Plus, we can optimize your space—no matter the size or shape!
Schedule your free design consultation today and see how Red Rose Cabinetry can produce superior quality kitchen cabinets to last for years!