No matter how much space you have in your kitchen, it can be a challenge to store everything where you can easily find it again. Many standard cabinets, especially those built many years ago, feature large open spaces that weren't designed for efficient storage. As a result, many of your kitchen cabinets may only be partially full, or worse, piled with items that are hard to reach when you need them most.
Recent trends in kitchen design feature storage options that serve specific purposes, rather than catchall storage areas that can easily become cluttered and unmanageable. If you're considering upgrading your cabinetry in the near future, you may want to look at custom cabinetry options designed to reclaim wasted space and optimize the space you already have.
Here are 7 ways custom cabinetry can help you make the most of small spaces in your kitchen, keeping everything organized and within easy reach.
1. Deep Drawers for Pots & Pans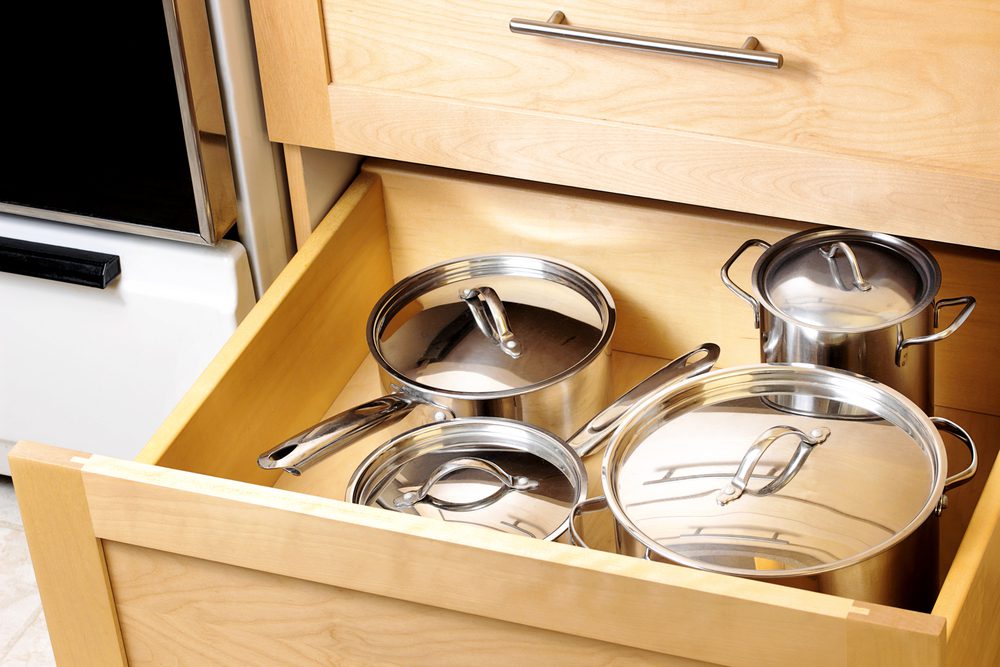 Traditional cabinets can be a nightmare for storing pots and pans, often making you crawl around on your hands and knees to reach the one you want in the back of the cabinet. Don't even get us started on locating those elusive lids!
When you opt for custom cabinetry, though, you have many more options. One handy solution is replacing traditional bottom cabinets with deep drawers, built to organize pots and pans perfectly. Simply open the drawer and find what you need easily. Plus, you can even store your lids right on top of the pans, so you always have them right where you need them. No crawling, struggling, or loud clattering required.
2. Slender Pullout Shelving
One of the best ways to optimize your kitchen is storing items where you need them most. However some items don't fit well in traditional cabinets or drawers such as spices and large knives, for example. You might also have difficulty finding a convenient spot for your kitchen trash can. Kitchen wraps and aluminum foil can also present storage challenges.
Adding slender, pullout shelving can provide easy access for many of the items you need every day, while also keeping things organized and uncluttered. If you're considering new cabinetry for your kitchen, be sure to ask about custom pullout shelving, which can be integrated between lower cabinets in a number of different sizes to accommodate almost anything you need to store.
3. Make Better Use of Wasted Corner Space
The corners of traditional cabinetry can be a nightmare. Things get pushed to the back, swallowed into an abyss that is only accessible by taking out every item in the front of your cabinets. Is it any wonder that many homeowners relegate this space to seldom-used pots and pans, bakeware, or dishes? What's worse is that most have no idea what's in those corners, so the space is often wasted on things they no longer need or want.
Incorporating a lazy susan design into your cabinetry can resurrect this dead space, making it far more accessible and user-friendly. With the spinning action of a lazy susan, you'll finally be able to store items you use often alongside seldom-used or seasonal items, all within easy reach and completely organized. Many lazy susan designs also feature pull out shelving, making the space even more versatile.
4. Add a Free-Standing Pantry Cabinet
Are pantry items taking up too much of your cabinet space? Do you need a spot to store bakeware or appliances you only use once in a while? Adding a free-standing pantry cabinet that is separated from your main cabinetry could be a great solution.
Free-standing cabinets can be built to the specific dimensions of your kitchen, providing additional storage in the space you have available. Slim designs can be built from floor to ceiling, providing plenty of space for canned food or snacks. You could also opt for a free-standing cabinet design that features an additional workspace on top, with pantry shelving above or below. A free-standing cabinet can also provide the perfect space for your microwave or coffee maker.
5. Reclaim Wasted Space around the Refrigerator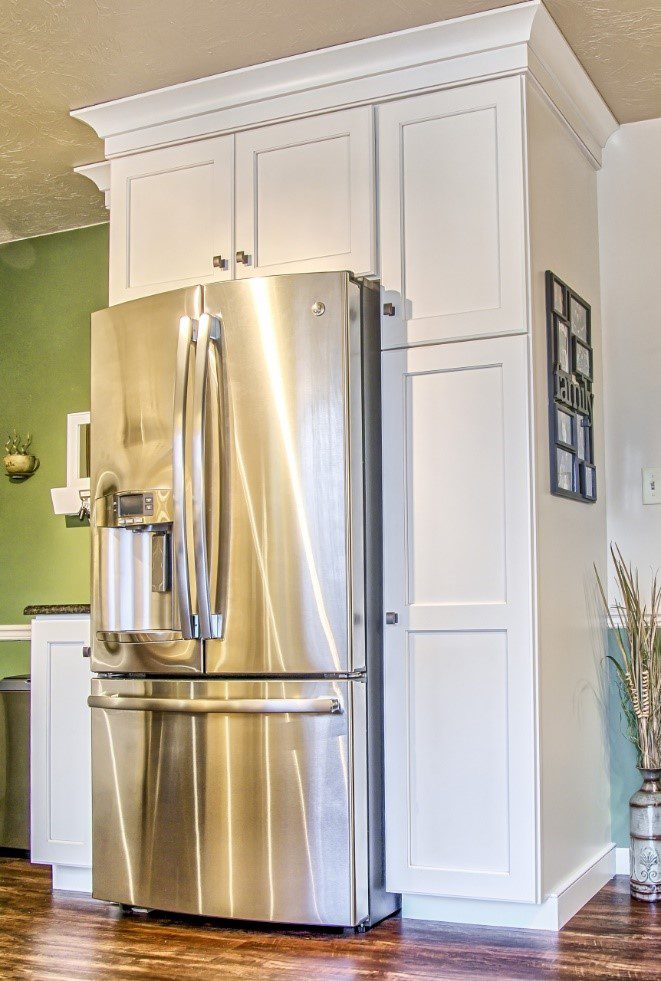 Refrigerators take up a lot more space in our kitchens than they used to. In fact, most modern refrigerators feature double door designs or massive freezer compartments that leave less space for standard cabinetry. But when you opt for custom cabinetry, you can work with your refrigerator's dimensions, adding cabinetry around it. Shorter upper cabinetry, along with slimmer, taller cabinetry on either side can give you a lot more usable space and storage versatility, while providing a seamless look that blends with the rest of your kitchen design.
6. Add an Appliance Garage
A cluttered countertop can make even the largest kitchens feel smaller than they are. So what can you do to keep coffee makers, blenders, food processors, or mixers easily accessible, yet tucked out of sight?
Enter the appliance garage – a small nook that can be built under existing cabinetry or in unused corners. Small appliances fit snuggly inside when not in use, but are available instantly with a pull of the rolling door that hides them away. Appliance garages can also feature swingout doors as well.
And even if you don't have a place in mind to add an appliance garage, it's often possible to build one inside the wall behind your backsplash, as long as you don't mind "stealing" a bit of space from the room adjacent to the kitchen. You can also add an appliance garage to a small breakfast nook or atop a free-standing pantry.
The appliance garage design can even be adapted to work at floor level in recessed spaces under furniture to serve as a convenient pet feeding station. The roll-up door can be opened for easy access to food and water and conveniently closed when guests arrive, keeping things neat and tidy.
7. Toe Kick Drawers
A great way to add more storage to your kitchen is to utilize the space under your cabinetry with toe kick drawers. Hidden from view, toe kick drawers can be used for a variety of items from paperwork and valuables to special holiday items, kitchen towels, and so much more. In fact, since toe kick drawers are often the same height as most standard kitchen drawers, anything you can store in a standard drawer can easily fit underneath your cabinets, safely tucked out of sight, yet easily accessible with a simple push of your foot.
As you can see, there are many ways to utilize custom cabinetry to make better use of your valuable kitchen space. And while custom cabinetry can be more expensive than standard cabinets at the outset, tailoring your kitchen to your needs can pay big dividends. By helping you reclaim wasted space, keeping things where you need them most, and avoiding endless searches for lost items, your custom cabinetry might just pay for itself with the time you save and the frustration you avoid.
Ready to transform your kitchen into the beautiful, functional space you've always dreamed it could be? No matter what your vision for your new kitchen is, Red Rose Cabinetry is here to help you bring it to life, often for less than you thought possible! Visit our showroom in Lititz, PA, to meet our designers and check out our kitchen displays.