Doing the laundry is a boring part of the day where we take a few hours to sort, clean, fold, and put away a pile-up of clothing from the previous week. But your surroundings can influence how you feel about something and having a beautiful laundry room can upgrade this task to make it feel more like a peaceful break from your everyday routine than a chore. Something as simple as updated laundry room floor cabinets can take the space from boring to elegant.
A frequently asked question many homeowners have is, "Can I add monetary value to my home by remodeling my laundry room?" Our relatively straightforward answer is "not much"—at least in terms of resale value. However, that doesn't mean remodeling your laundry room isn't a fantastic idea that will add value to your everyday experience in your home or excite potential homebuyers should you choose to sell your home.
While the kitchen and bath upgrade projects we specialize in are some of the most valuable renovations you can do, other hardworking spaces in your home—like your home office or your laundry room—can also benefit from cabinet upgrades. Here at Red Rose Cabinetry, our talented sales and design team members are ready to answer your questions when looking to add an upgraded look, better storage efficiency to their spaces, and a little bit of resale value to their homes.
Read on to learn more about the types of laundry room remodels you can make to add efficiency, comfort, and convenience to your home.
Schedule A Free Design Session
HAVE YOU CONSIDERED MOVING YOUR LAUNDRY ROOM?
While it is true that remodeling an existing laundry room won't do much for your home's financial value, there are some aspects to an updated laundry room that can be an attractive aspect of your home for its future homeowners. If you do not have a first-floor laundry room today, you may be disappointing potential buyers and detracting from your home's value. Not to mention, you might also be creating lots of extra work for yourself or family members at laundry time, too!
Some newer homes have laundry facilities tucked away in a closet on an upper level, such as in a bedroom hallway or as a stack tucked away next to the top of the stairs. These may seem like convenient locations for a washer and dryer since bedrooms generate a lot of linens, and we tend to store our clothing there.
However, laundry can sometimes be dirty, smelly, and unsightly, creating a chaotic atmosphere that you may not appreciate right next to where you sleep. Running the washer and dryer also produces noise and heat that can disrupt your sleep if you choose to do laundry later in the day, or if you and other members of your household work on opposite schedules.
So, where is the ideal spot for your laundry room—that many homebuyers expect to see these days?
The first floor is often the preferred location! You will find that potential buyers today prefer their laundry room near a secondary entry to the house, such as off an attached garage. Not sure this makes sense? A National Association of Home Builders (NAHB) survey revealed that 68% of the moderate-income buyers and 69% of high-income buyers prefer to have their laundry machines on the main level of their home!
HOW DO I IMPROVE MY LAUNDRY ROOM IF I CAN'T MOVE IT?
If your laundry room is currently down in the basement or even upstairs, it may be time to think about a move, even if that's to a dedicated corner of your attached garage or a main-level closet. If you have the proper setup and ventilation options for your laundry in a room on the first floor of your home, consider converting that space into a new laundry room.
If you don't have the room or a dedicated space for your laundry on the first floor, think instead about other kinds of laundry room design aspects. What else can upgrade the area? Softer light fixtures, newly updated laundry room floor cabinets, and appliances are easier upgrades if you cannot move your laundry room to a different part of the home.
WHAT ELSE SHOULD I CHANGE ABOUT MY LAUNDRY ROOM?
If you already have your laundry room on the first floor of your home, it may just need a little love to make it as appealing as possible to potential buyers. These are two big must-do items for your laundry room redesign.
MAKE SURE YOUR LAUNDRY APPLIANCES ARE UP-TO-DATE
Did you know that the average washing machine and dryer will last about a decade, according to research from Consumer Reports? Some laundry appliances will last much longer, but it's often a bit of good luck if they do.
If you're preparing to sell your home, it may be worth it to donate or sell older, still-working machines and upgrade to the newest models with features that help make doing laundry a breeze. This change will entice potential buyers, especially if you purchase energy-efficient appliances. The NAHB notes that most homebuyers are willing to spend up to $8,728 more for a home upfront if they can save $1,000 on utility bills annually.
While a matching set of machines isn't necessary, it will offer the best aesthetics in your renovated laundry room, and they are often optimized to work together, too. Manufacturers design a washer and dryer set to be purchased together. They usually have complementary features, and energy efficiency may be best when these machine pairs are working side-by-side or stacked vertically. Also, when you have new laundry room floor cabinets, you will want to have new appliances to make the whole look more cohesive!
Schedule A Free Design Session
UPGRADE YOUR LAUNDRY ROOM WITH CUSTOM CABINETRY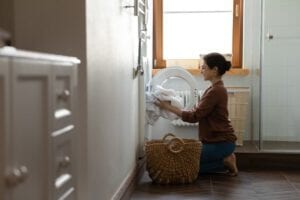 We shared a blog post about transforming a cluttered laundry room with better storage a little while ago. In that can't-miss article, we talked about adding shelving, useful pegboards, and many more optional organizational features to upgrade your space. At Red Rose Cabinetry, we love a good wall mount cabinet, but you can even upgrade your laundry room floor cabinets to have a storage solution for your laundry basket!
Counter space, a laundry sink, and a beautiful tile backsplash are also considerations when making your laundry room more attractive. When you have ample counter space for folding or have custom wall cabinets or open shelving to save space and keep necessities like detergent, or even an ironing board, stowed away, laundry feels less like a chore. Better Homes & Gardens, as well as plenty of happy homeowners we've worked with here at Red Rose Cabinetry, agree! A well-organized laundry room can be a joy to work in—even if you're less than a fan of doing "the wash."
READY TO REMODEL YOUR LAUNDRY ROOM WITH BETTER STORAGE? WE'RE HERE TO HELP!
Red Rose Cabinetry is Lancaster County's favorite custom cabinetry and remodeling resource for all the most frequently used areas of your home. When you're looking to optimize your laundry, upgrade bathrooms, or creatively reimagine your kitchen, we're here to help you make your dreams come true.
Get in touch with us today and make an appointment to talk through your ideas with one of our friendly design experts. We'll bring your renovation dreams to life!