Does your bathroom space feel cramped, overloaded with clutter, or just downright disorganized? Do you dread getting ready in the morning or waste time looking for things?
No matter how small your bathroom might be, the key is using all of the available space more efficiently. Here are some great ways to reclaim unused space in your small bathroom and create better flow throughout the entire space.
Under the Sink Storage
One of the most inefficient storage areas in most small bathrooms is the open vanity under the sink. This large, open area quickly gets filled with items that fall over on top of others, making a huge mess. But in a small bathroom, it's important to maximize every square inch of this prime real estate. Here's how…
Create Zones with Containers
Group like items together and use containers to keep them organized. Anything from dollar-store bins and racks to turntables or bath caddies could work. You might even have some baskets or other containers elsewhere in your home that might be the perfect fit.
Hooks and holders can also help you make use of the space on the walls of the vanity as well.
Here's one example of organized under-the-sink storage from the PolishedHabitat.com: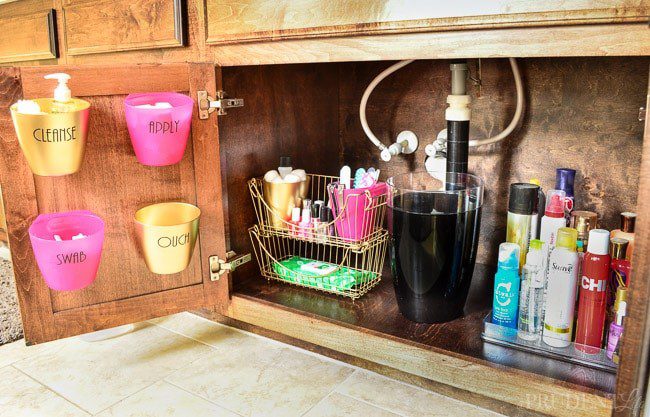 Extra shower caddies can also help compartmentalize your space as shown in this example from Goodhousekeeping.com:
Don't Forget About the Vanity Doors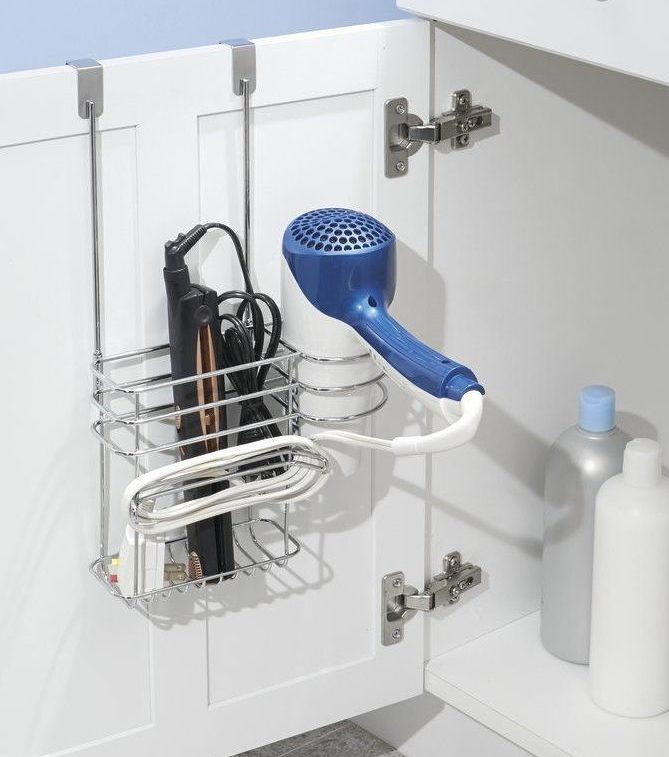 Another spot to grab space from under the vanity is the vanity doors. Door racks made specifically for cabinet doors work well, but you can also repurpose magazine bins or file containers from your local office supply store. Just be sure that whatever you add to the door provides enough clearance to shut the doors properly.
Door racks, like the one pictured here are available at most home improvement stores.
If you're ready for a remodel…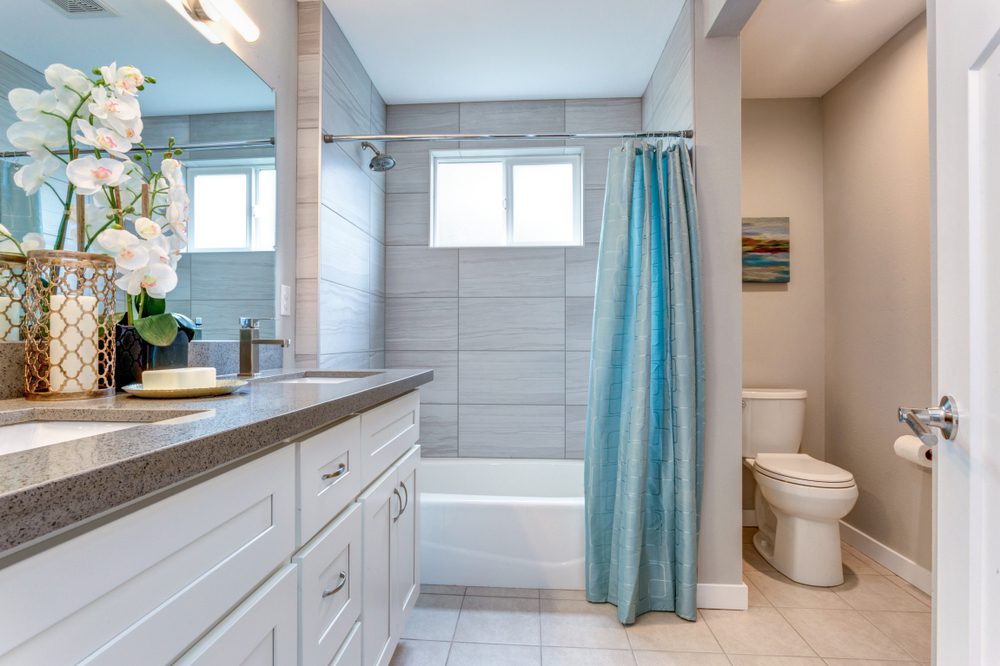 If you're planning a bathroom remodel in the near future, you might want to consider replacing the open vanity under the sink with drawers instead. Drawers can help maximize your space and each drawer can be further partitioned to hold makeup sponges, nail polish, a curling iron, extra toilet paper, or any number of bathroom necessities.
Counter Space Ideas
While your small bathroom might be short on available counter space, there are ways to maximize the space you do have. The key is deciding what truly needs to be on the counter and what can be moved to other areas. We recommend only placing items you use most frequently on your limited counter space. Here are some ideas for keeping your counter clutter-free.
Use a Tray to Keep Items Together

Corralling bottles, toothpaste, or makeup on a tray helps keep your counter space looking tidy and makes it easier to find what you need in a flash, as illustrated from this tip at GoodHouseKeeping.com.
Makeup Spinner

This cool rotating makeup spinner is a clever way to keep all your favorite makeup items, neat, organized, and within easy reach in a small footprint.
Glass Jars

These glass jars provide see-through storage for common bathroom items, while keeping them clean and easy to access.
Tiered Baskets

These tiered baskets make great use of vertical space on the bathroom counter, providing ample room for a variety of frequently-used items.
Shelving Storage
Another trick to maximizing the space in your small bathroom is to think vertically. While you are probably short on cabinet or counter space, you can use available wall space to compensate. Outfitted with shelving, cubbies, or other containers, your walls can become the perfect home for towels, extra toilet paper, hair care products, and much more.
Above the Door Shelf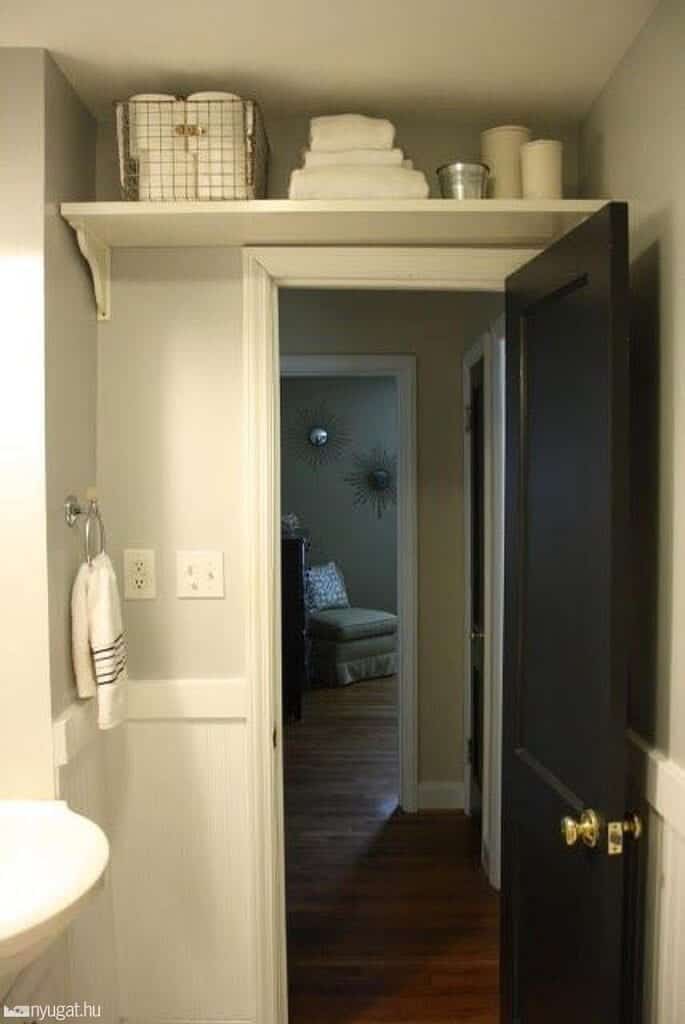 This simple shelf takes advantage of unused space above the bathroom door to store extra towels and toilet paper.
Stacked Shelving
This stacked shelving unit makes use of available space next to the bathroom vanity to store additional supplies.
Free-Standing Storage Ladder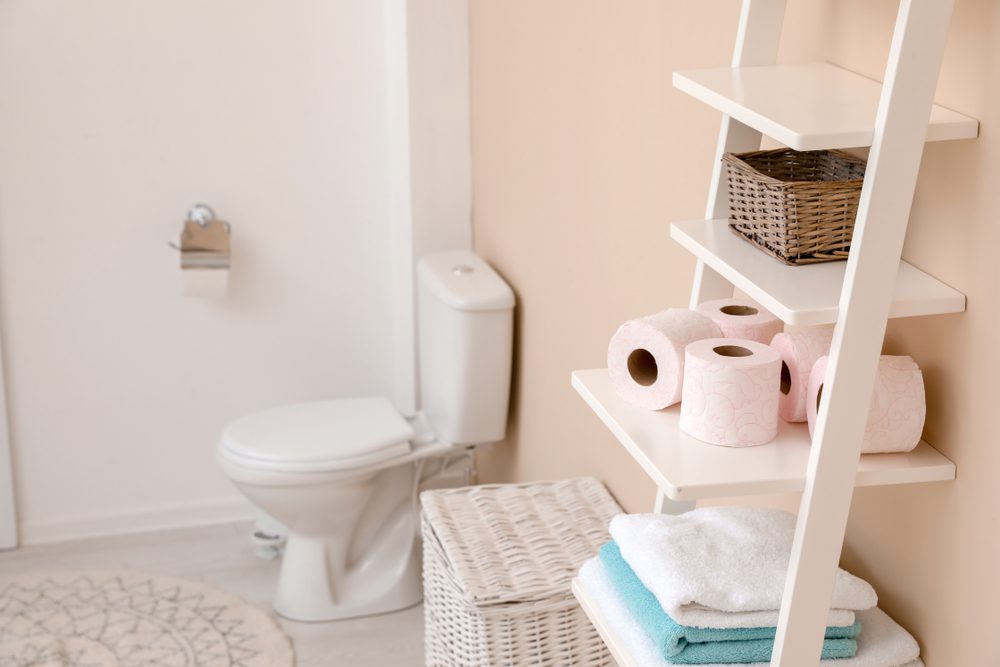 This free-standing shelf ladder is a stylish way to add shelving to your bathroom – no mounting required!
Crate Shelving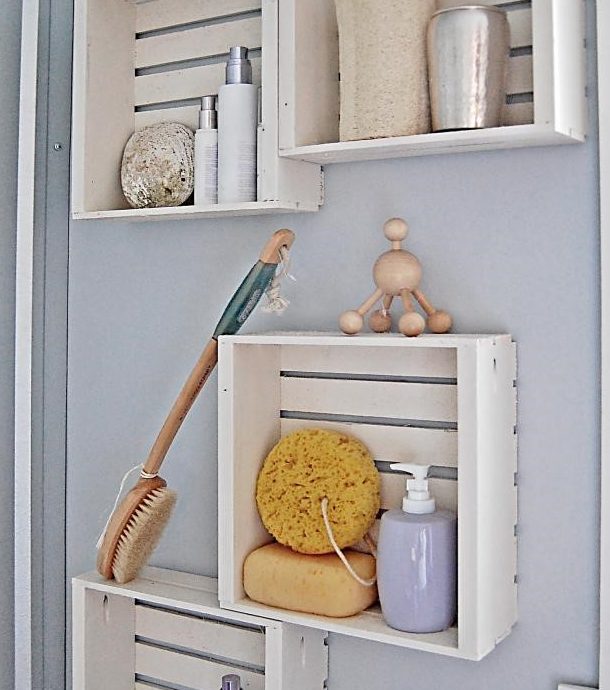 Made from simple crates, this clever wall shelving unit, shown on HDTV.com, provides a multitude of storage compartments for a variety of bathroom items.
Corner Shelving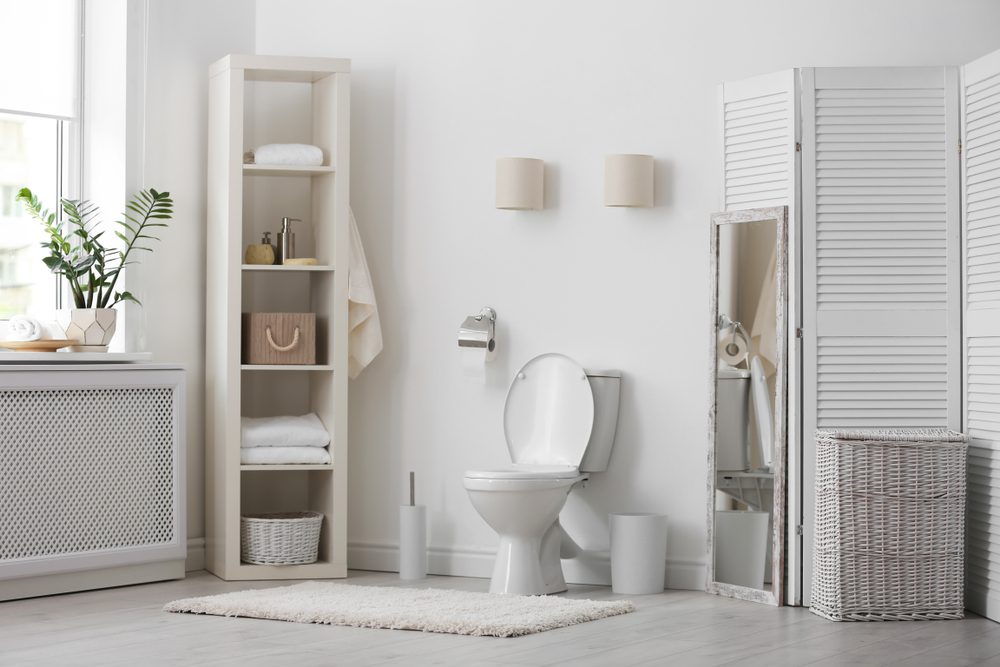 This vertical shelving unit provides plenty of storage space and fits neatly into the corner of the room.
Open Shelving and Drawers
While this bathroom is bigger than most, take note of the shelving and drawers between the sink areas. This custom unit is a great example of how we created multiple storage areas in a small footprint, one of our specialties at Red Rose Cabinetry.
Recessed Shelving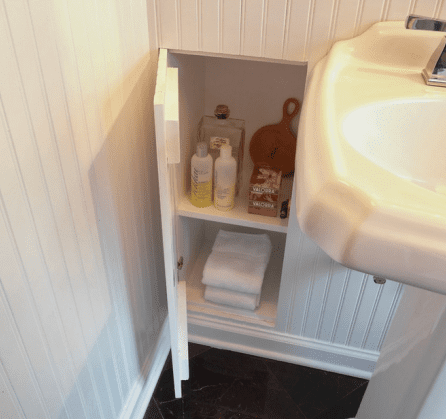 If you're a bit handy and don't mind cutting into your walls, creating a recessed shelf between your wall studs is a great way to create additional storage in an otherwise cramped space. On average, the space between typical wall studs is 16", perfect for a small, hidden cubby.
Over-the-Toilet Storage
Another, often overlooked area to regain valuable space in your bathroom is above your toilet.
Top of the Toilet Basket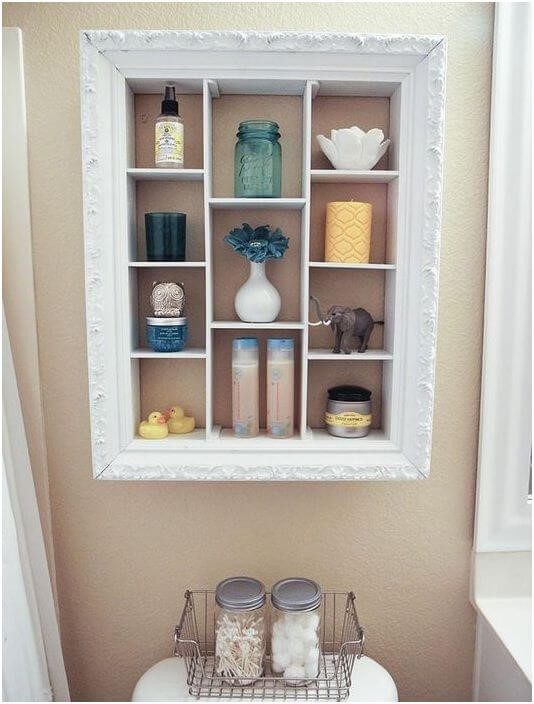 One of the simplest ways to add more storage above the toilet is by adding a simple basket for extra toilet paper, or other items.
Over-the-Toilet Shelving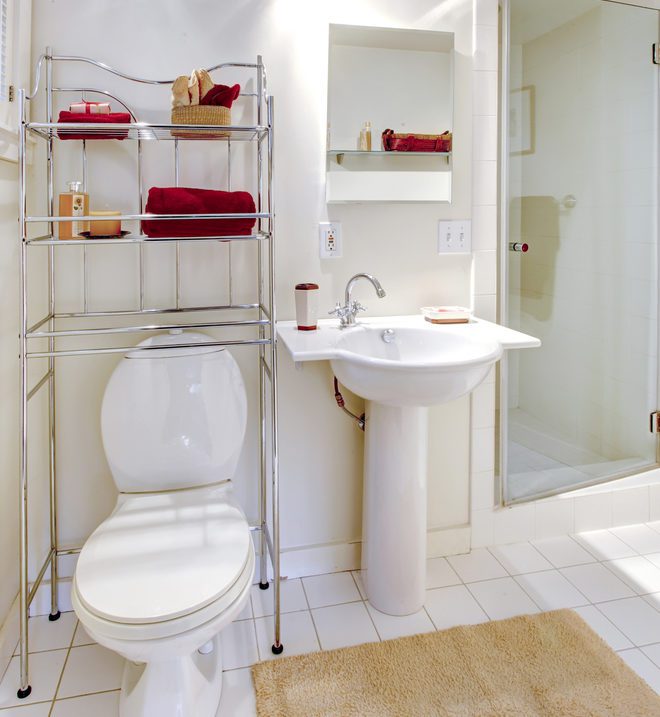 Many home improvement stores offer shelving units, like the one pictured here, that sit just above the toilet, providing additional vertical space.
Over-the-Toilet Shelving Boxes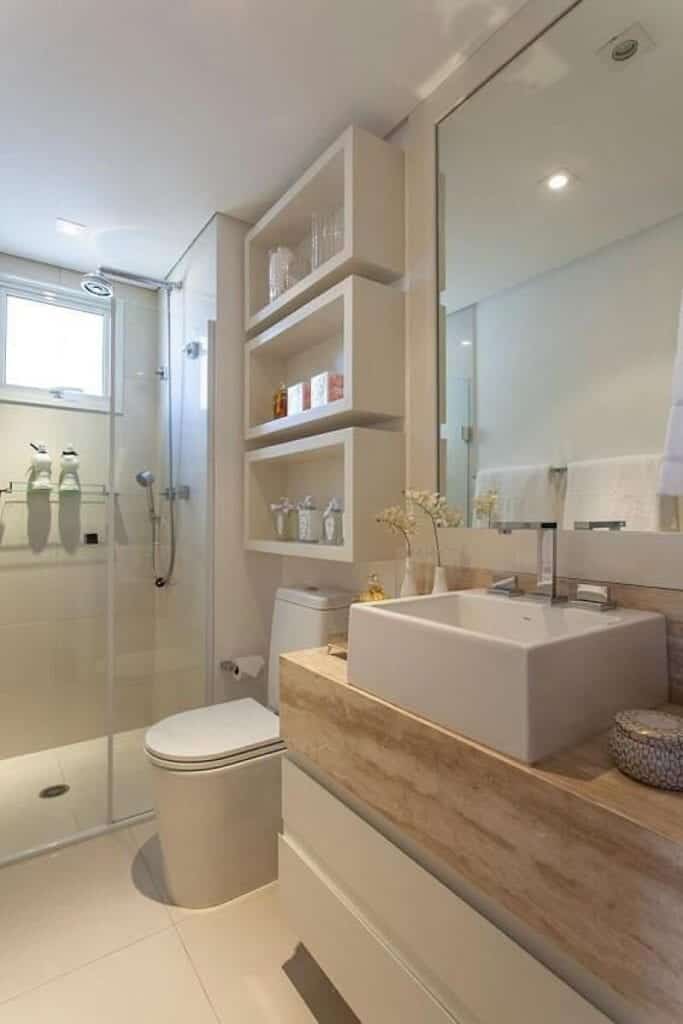 These over-the-toilet shelving boxes provide an attractive storage area, making great use of vertical space and providing architectural interest at the same time.
Towel Storage Ideas
If your bathroom doesn't have a linen closet, it can be difficult to decide where to store towels, both the ones you use daily, and a fresh supply of towels to replace ones that get dirty. Fortunately, there are a few solutions that work well in small bathroom spaces.
Towel Baskets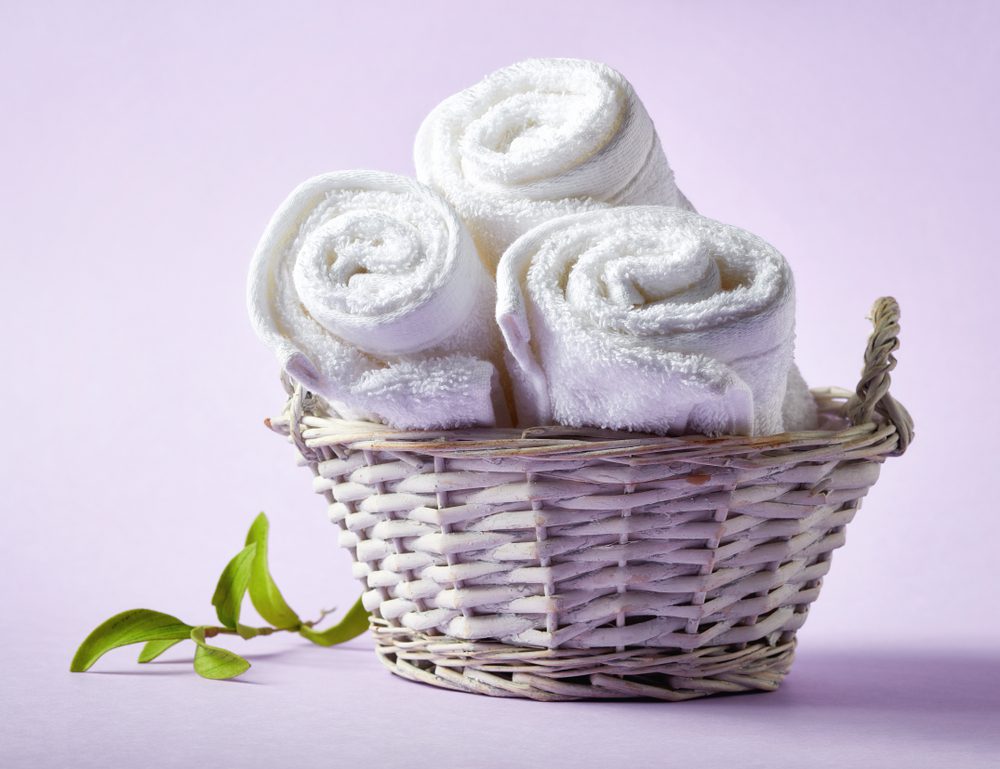 If you have open floor space, either beside the tub or shower or under the sink, placing rolled towels in a wicker basket could be a great solution. This keeps towels easily accessible and out of the way, too. A smaller basket of towels might also fit on the edge of the tub or on an open countertop.
Rolled Towel Shelving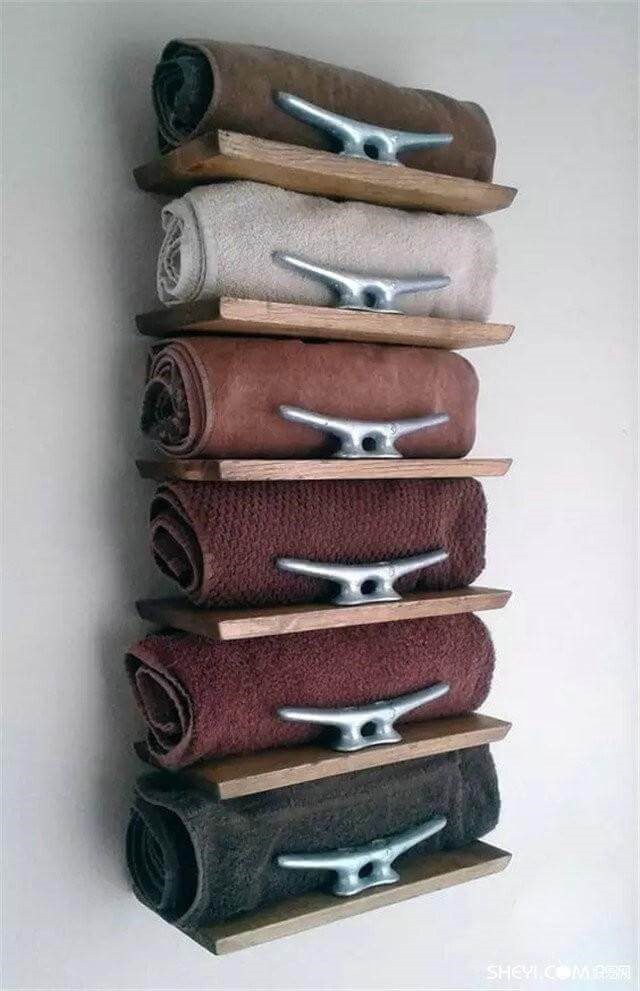 This clever solution shown on HomeBNC uses a set of simple shelves with a nautical flair to hold up to 6 rolled towels. This idea could easily be adapted to work with other simple shelving styles as well.
Extra Towel Bars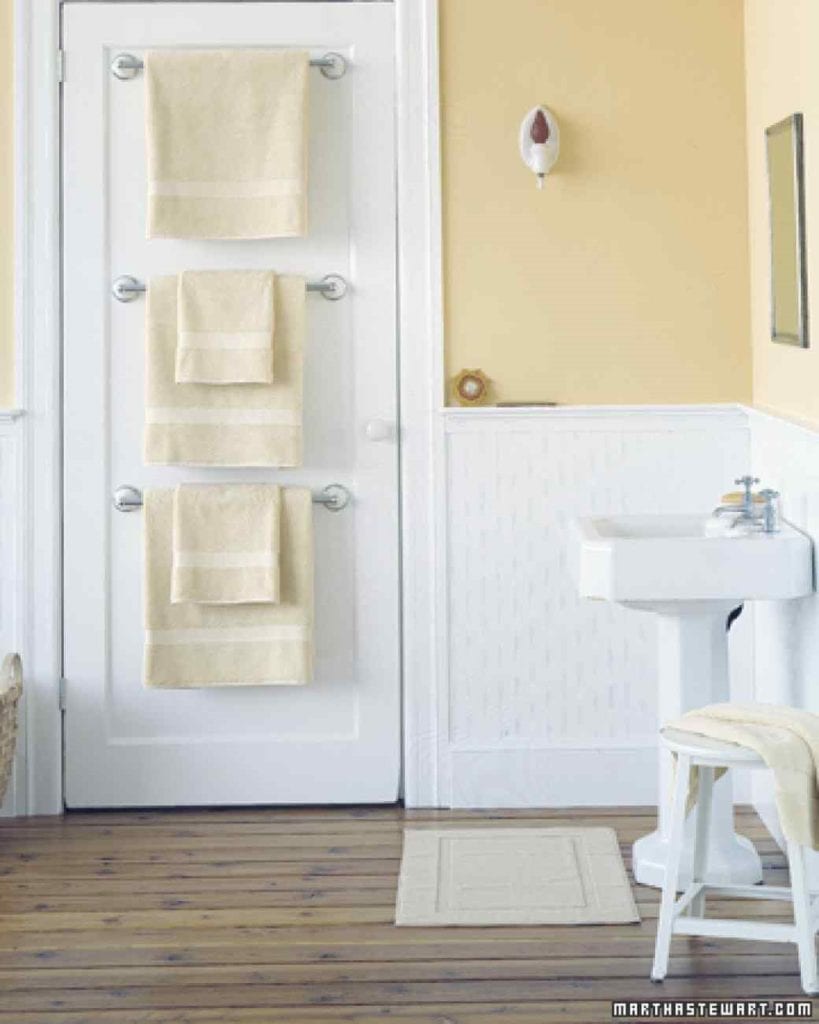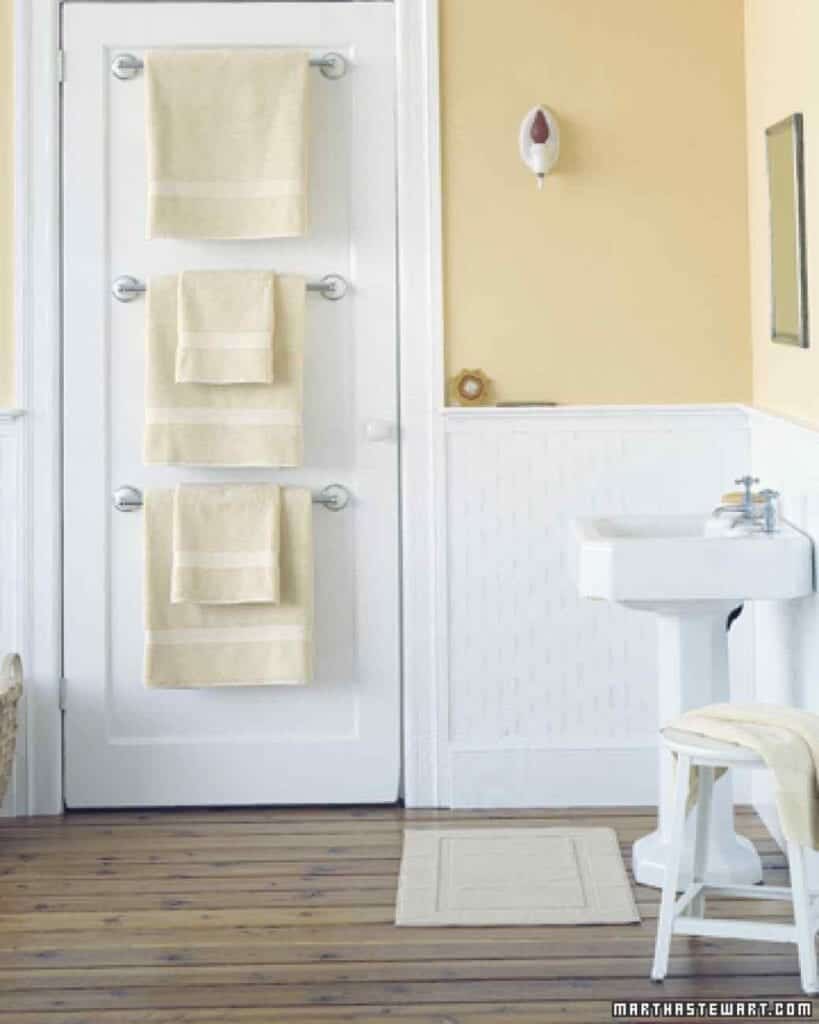 While most bathroom doors usually have a single hook to hang a towel or bathrobe, you can provide far more storage by adding additional hardware. This setup from Martha Stewart makes use of 3 full towel bars on the bathroom door to provide plenty of room for extra towels.
Over the Sink Storage
The area right above the sink is prime real estate in a small bathroom. Here's how to get more mileage out of this space and keep your most-used items neat and easily accessible.
Magnetic Strips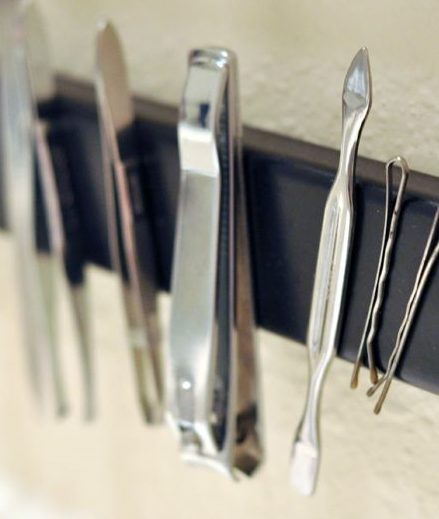 This magnetic strip, mounted above the sink, provides the perfect spot to store tweezers, nail clippers, bobby pins, or other items that easily get lost in the shuffle.
Compartment Shelving
This simple shelving unit, available on Amazon.com, provides storage for small items and includes a convenient holder for a hair dryer.
Above the Sink Box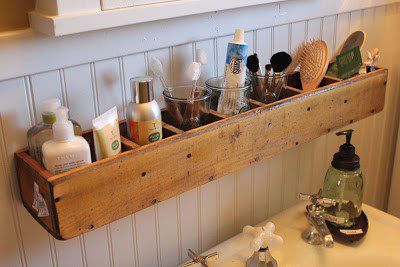 This rustic box is the perfect storage area for small items. Mounting the box right above the sink provides convenience and a bit of charm, too. Of course, if you prefer something less rustic, a similar box made of acrylic, plastic, or even metal would work too.
As you can see, there are many ways to reclaim wasted space in your small bathroom and keep frequently-used items within easy reach. It just takes a bit of creativity and some clever work-arounds.
When you're ready for more drastic change, you can count on the experts at Red Rose Cabinetry for complete bathroom remodeling services. We understand what it takes to create stylish, functional bathrooms that work with your budget. Visit our showroom in Lititz, PA to start imagining the possibilities!