Thanks to trends toward downsizing, minimalist living, and decluttering in recent years, modern kitchen designs are more popular than ever. Characterized as minimalist, stark, and sleek, modern design celebrates simplicity and quiet elegance, often with an emphasis on natural materials.
So how do you create the modern look in your kitchen? Here are our best tips and ideas for adding modern design elements to your future kitchen remodeling project.

What is a modern kitchen?
The term modern was first used to describe specific design elements popular in the early to mid-20th century, which strayed from traditional styles typical before the Industrial Revolution. Traditional designs of that earlier period included many details such as intricate woodwork or carved moldings. Modern design became a simpler, sleeker alternative.
Kitchens designed in the modern style incorporate simplicity and minimalism through frameless, flat cabinetry, the use of natural materials, sleek, simple lines, and an overall minimalist look and feel.
Due to the current fascination with minimalism, contemporary design styles have taken on many of the elements of modern design, making the terms contemporary and modern almost indistinguishable, at least until trends change once again.
How can I make my kitchen look modern?
Minimal Ornamentation
Modern designs emphasize function over form, using very few decorative elements. As a result, cabinetry in modern kitchens is often flat and simple, with little decoration and a few subtle lines. Cabinet hardware is often absent entirely or consists of simple bars or tubes that often extend the entire length of the cabinetry. Flooring and wall styles are often plain or stark as well, relying on the natural beauty of the material itself to make a statement.
This modern kitchen is the picture of simplicity with flat cabinetry and white walls. Notice the very subtle pattern of the countertop, along with the muted grey island here. The natural grain of the wood floor adds a bit of color and texture, accentuating the beauty of the natural material. The pendant lights are simple, with no decorative elements.
Natural Materials
Another hallmark of modern design is its reliance on the texture and beauty of natural materials. As a result, hardwood floors feel right at home in modern kitchens. Cabinetry can also be done in wood, often with the wood grain running horizontally. Glass and natural stone can also adorn a modern kitchen.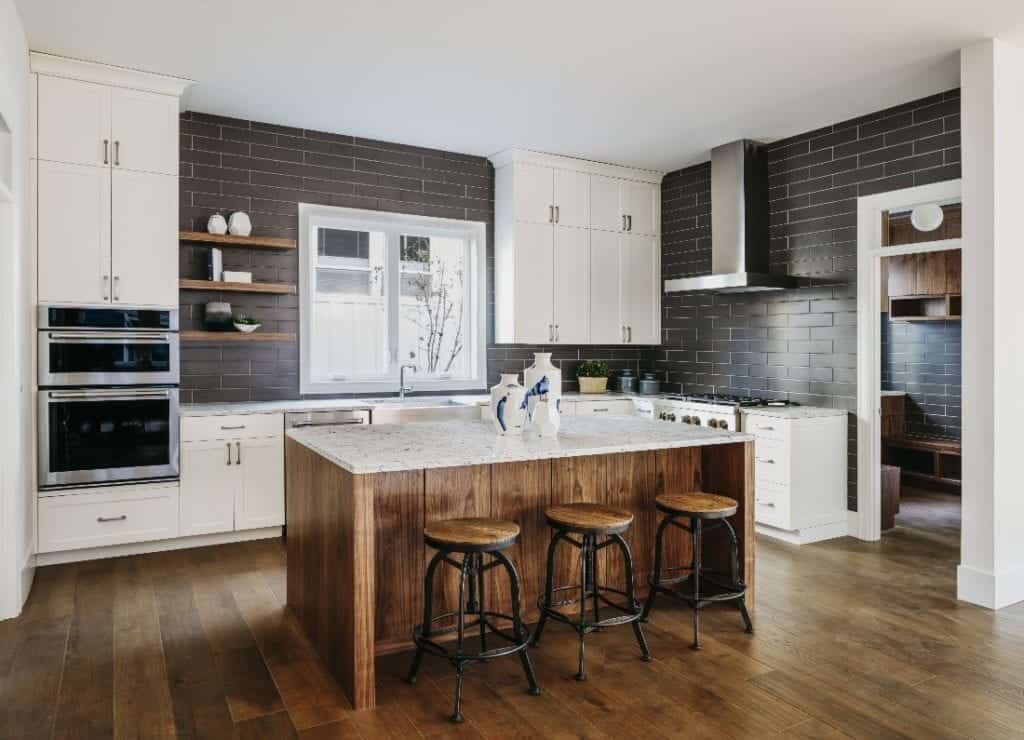 Natural wood adds texture and warmth to this otherwise stark black and white kitchen.
Horizontal Lines
Modern kitchens favor horizontal lines over the typical vertical orientation seen in most other kitchen styles. Horizontal elements can take many forms from sleek, horizontal cabinetry or horizontal tile patterns to wide horizontal kitchen islands.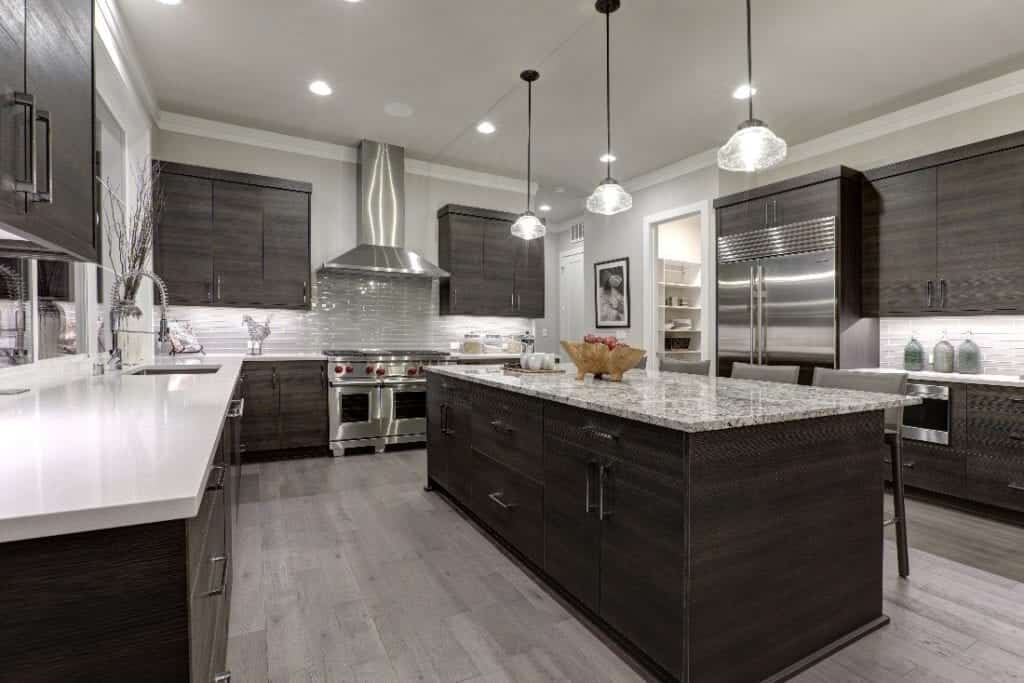 This kitchen makes ample use of horizontal lines in the cabinetry, as well as above the refrigerator on the far wall. The backsplash, cabinet borders and the large horizontal center island further emphasize this effect.
Industrial Elements
The unadorned style of industrial elements makes them an instant favorite in modern kitchens. Stainless steel appliances, a metal backsplash, or metal seating can all add industrial flair. Industrial style can also be added with lighting fixtures that feature a single bulb and little decoration.
What colors should I use in a modern kitchen?
While many modern kitchens embrace the clean simplicity of white, that certainly isn't your only color choice. In fact, just about any color can be part of a well thought-out modern color scheme. The key is adding colors that enhance the modern look without being distracting or busy.
Earth-Centered Colors
Shades of blue, green, and tan can make any modern kitchen feel clean and inviting.
Notice how the light wood in this modern kitchen perfectly complements the blue-green tile backsplash and simple green pendant lights for a calming, nature-inspired color scheme.
Bold Colors
Strategic pops of bold colors can break up the monotony of subtle neutral colors, adding vibrancy and sophistication.
Lime green walls and accents in this modern kitchen make a bold statement that draws the eye, while subtle white and grey shades make up the bulk of the color scheme.
Other bold colors to consider include shades of red or pink, bright yellows, coral, or even purple. The key is using just enough of a color to make a statement, without overdoing it. Choose one wall or design element to showcase bold colors, while using subtle neutrals in the rest of the kitchen.
Time-Tested Neutrals
Modern kitchens are famous for neutral, monochromatic color schemes that often include various shades of a single color such as black, white, cream, grey, or tan. When using a monochromatic color scheme, it's important to vary the shades of your chosen color as well as provide different sheens or textures throughout the space.
Though this kitchen is basically black and white, notice the variety of textures and variation throughout the space. The black tiled backsplash adds texture and contrasts with the glossy stainless steel appliances and metal accents. Bright white cabinetry completes the look perfectly.
As you can see, the streamlined, minimalist feel of a modern kitchen offers many possibilities for creativity from unique color schemes and industrial elements to the beauty of clean lines and natural materials. We hope we've inspired you to explore modern design elements for your own kitchen.
Thinking about a future kitchen remodel? Red Rose Cabinetry can help with every detail from start to finish! Visit our showroom in Lititz, PA to explore custom-crafted cabinetry and get creative kitchen remodeling ideas from our experienced staff.