It's finally time to update your kitchen and that means new kitchen cabinetry. You're excited. You've been dreaming about this for years. You have some ideas about what you'd like, but you have questions too. You keep hearing about custom cabinetry and how much better it is than stock or semi-custom cabinetry. But, you wonder, is it really?
The truth is stock, semi-custom and custom cabinetry all have their place in today's homes. Any of them could be the right choice, depending on your needs. In the end, your decision will come down to what you value most.
Here are five of the biggest advantages of custom cabinetry and reasons why you should consider it for your new kitchen:
#1 – Custom Cabinetry is Made with Higher Quality Materials
For most families, the kitchen gets more traffic than any other room in the house. That means more wear and tear on your cabinetry. Cabinets made with better materials will last much longer and look better over time.
Most stock cabinets are made from particle board or MDF, both of which are susceptible to damage from water or excess moisture and have shorter lifespans than furniture-grade plywood and solid wood.
Custom cabinetry is typically made with higher quality materials than either stock or semi-custom cabinetry, including better door hinges and hardware, stronger drawer guides, furniture-grade plywood and solid wood face fronts. Custom cabinetry is also finished with higher quality stains and finishes, enabling each cabinet or drawer to take the rigors of daily life without skipping a beat.
#2 – Custom Cabinetry is Built to Fit Your Space
While both stock and semi-custom cabinets are made in standard sizes, custom cabinetry can be built to the exact width, depth or height that you need. This makes custom cabinetry an ideal choice for oddly-sized kitchens with unique angles, very small kitchens or even larger kitchens with unusual layouts.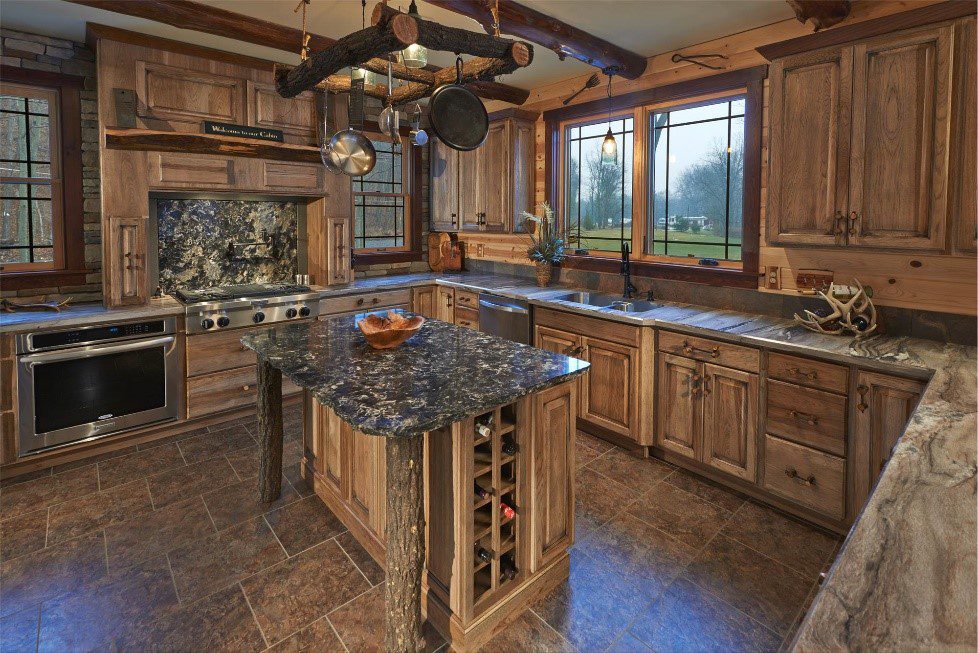 While using stock or semi-custom cabinetry often results in gaps or creates wasted space in challenging kitchen layouts, custom cabinetry is made to fit the exact measurements of your kitchen, resulting in a more efficient layout, more usable space, and a better overall look.
But, even if you have a fairly standard sized kitchen, custom cabinetry will give you unique storage options that just aren't available in stock or semi-custom sizes. Unique island storage, custom spice cabinets, cutlery storage areas, a custom coffee station or microwave area are all possible with custom cabinetry. You may also want to add tall, thin cabinetry on an angled wall to create even more storage options.
Also, most custom cabinet shops offer more design help than their stock or semi-custom counterparts, enabling you to maximize your kitchen space to provide greater flexibility and additional functionality.
3 – Custom Cabinetry is Crafted, Not Manufactured
Stock and semi-custom cabinetry is built on a production line, made from a series of boxes that can be produced over and over again very efficiently. While this efficiency often translates to lower cost, it also means fewer choices when it comes to wood types, sizes, colors or finishing options.
Stock and semi-custom cabinetry is often finished with stock nuts, bolts or nails that create weak points that wear more quickly, causing failures over time.
On the other hand, custom cabinets are built like handcrafted furniture: one piece at a time, by an experienced craftsman. These craftsmen take pride in their craft, using tried and true construction methods like mortise and tenon joinery and dovetail drawer construction to make their cabinets stronger and more wear resistant. The lumber is also hand selected for each project, resulting in better grain matching that is more pleasing to the eye.
Finishing methods are often more precise and detailed in custom cabinetry shops, too, producing a satin-soft finish with no rough spots due to several rounds of hand sanding. While stock and semi-custom cabinetry may only be available in a few colors and glazes, custom cabinetry is typically available with hand distressing details, hand-brushed paints, die stains, specialty glazes and custom color matches.
#4 – Custom Cabinetry Might Cost Less Than You Think
While custom cabinetry is more expensive than either stock or semi-custom options, it's important to note that you often get more for your money in the short- and long-term.
In many cases it will cost more than you planned, to adapt either stock or semi-custom cabinetry to your space, in order to fill in gaps or make parts of your cabinetry work with other parts of your kitchen.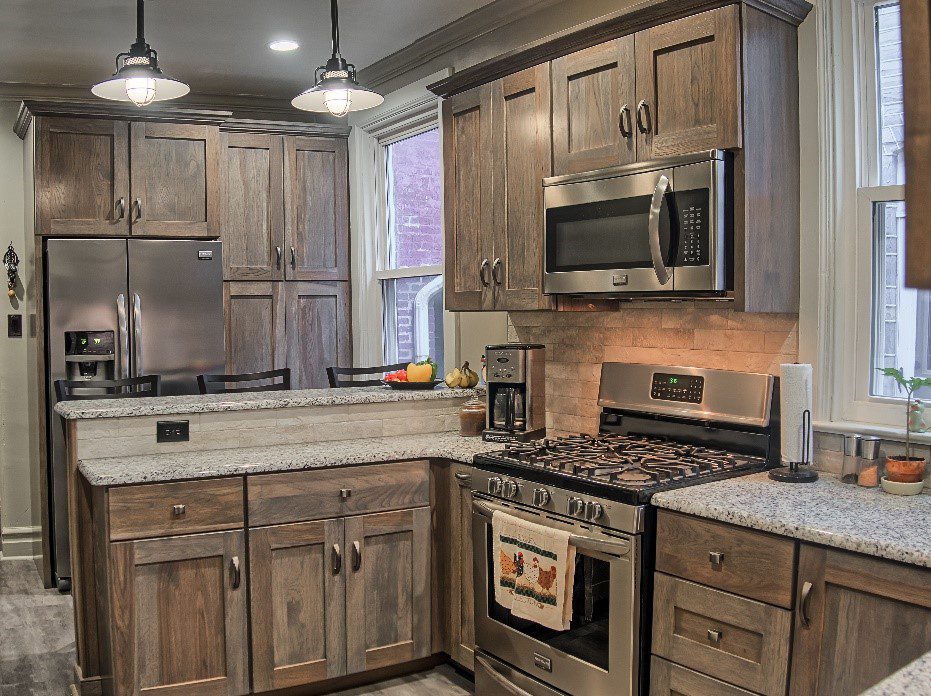 In some cases, custom cabinetry that fits the exact needs of your kitchen only costs a little more than similar, semi-custom cabinetry. And when you factor in how much more custom cabinetry increases the value of your home compared to stock or semi-custom cabinetry, the financial gap closes even more and often makes custom cabinetry worth the extra cost.
Be sure to price both options, and consider all the costs of each, before you decide which one makes the most financial sense for your project.
#5 – Custom Cabinetry Is More Eco-Friendly
If eco-friendly options are important to you, custom cabinetry might be the best solution. While you don't have much choice about where materials are sourced when you purchase stock or semi-custom cabinetry, it is possible when you choose custom cabinetry. Custom cabinet shops generally use domestic hardwoods that reduce the environmental impact of your project, and have more flexibility in where they source the wood for their cabinets.
It's also important to note that custom cabinetry often produces less waste during the building process, since it is crafted to fit your space perfectly. Better materials and construction methods also ensure that you won't need to replace your cabinets any time soon, further reducing waste.
When choosing between custom cabinetry and stock or semi-custom cabinetry, be sure to weigh all of your options before making a final decision. When you consider the higher quality, customization options, and true craftsmanship that goes into custom cabinetry, you might find it's the best investment you can make.
In the end, your decision about the type of cabinetry to install in your kitchen will come down to many factors such as your immediate needs, the amount of time you plan to stay in your home, how often you use your kitchen, and your available budget.
Would you like help determining whether custom or stock or semi-custom cabinetry is right for your project? Schedule a showroom visit and we'll dedicate some time to helping you decide.