Whether your laundry room is large or small, it's likely one of the most cluttered areas of your home. There's so much to organize, from dirty laundry and detergent to dryer sheets and cleaning supplies, it can seem overwhelming. Here are some hacks to clean up the clutter from clever storage solutions to tips for small laundry room spaces.
Storage Hacks
One of the reasons many people struggle to keep their laundry rooms tidy is that they haven't designated clear "homes" for all the stuff that gets stored there. You may think you just don't have enough space. But, even the smallest laundry rooms often have unused corners, open walls, or untapped floor space that can be used for storage.
Here are some hacks that can help you reclaim unused space for better organization.
Add Shelving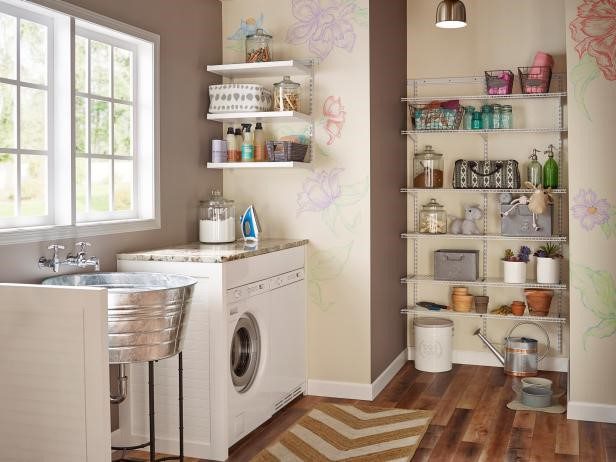 Shelves provide a convenient spot for laundry detergent, dryer sheets, cleaning supplies, and much more. Plus, open shelving makes it easy to see what you have and grab it quickly. Even small spaces likely have nooks and crannies for shelving, such as the space above the washer or dryer or in hidden corners of the room.
Add a Pegboard
If you find that much of the clutter in your laundry area is from oddly-shaped cleaning tools or supplies, a pegboard can be a great addition. The flexible design provides space for the tools you need, while making them easy to find, use, and return to their spot.
Add a Bookshelf or Dresser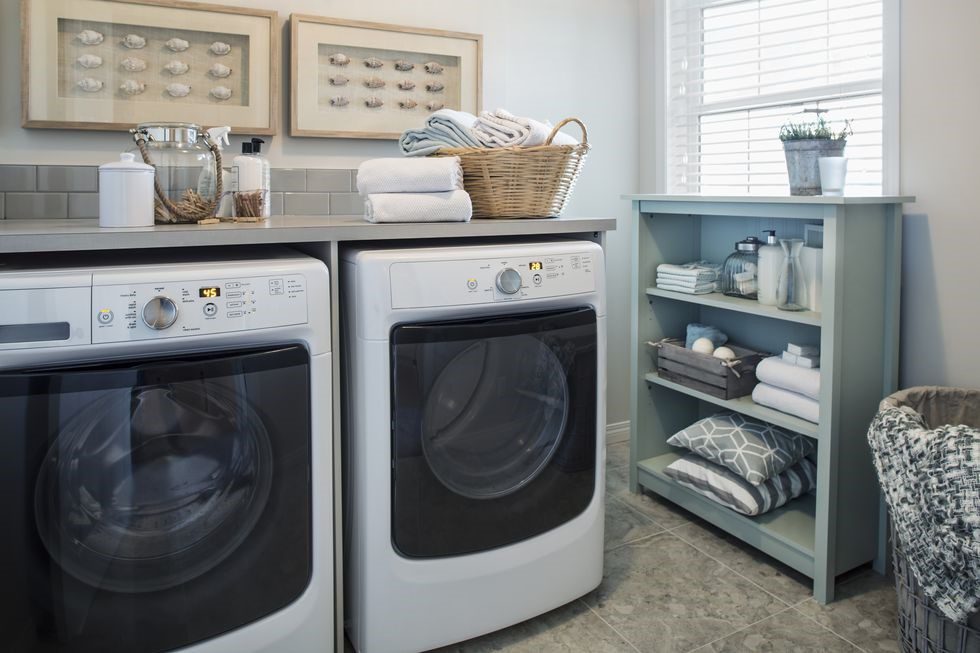 Repurpose an old bookshelf or dresser to create a cheap and convenient storage area in the laundry room. Dressers or bookshelves with flat tops can also provide a convenient folding area or a place to store clothes baskets. Corral smaller items into glass containers, baskets, or bins to keep the shelving or drawers organized and tidy.
Wall-Mounted Drying Rack
A wall-mounted drying rack is the perfect spot to dry delicate items you don't want to put in the dryer. The one pictured here conveniently folds away to save space.
Lift the Washer and Dryer to Create Storage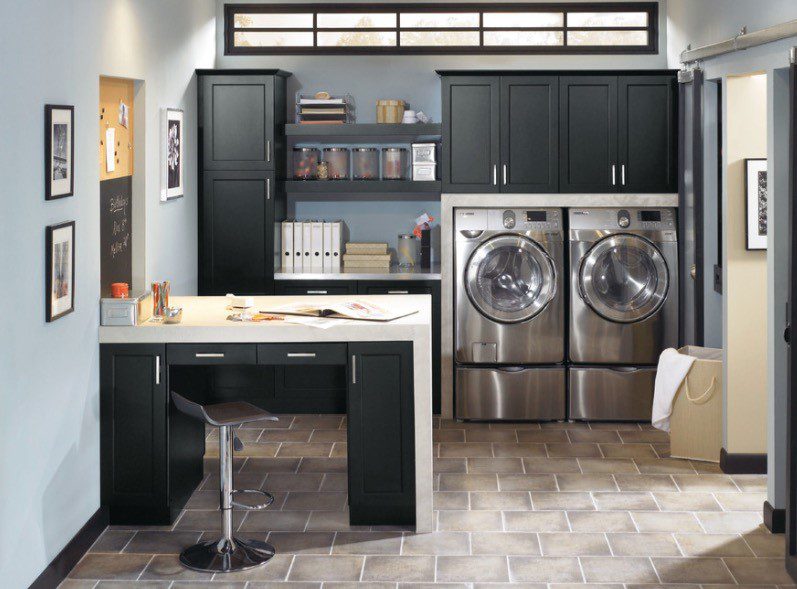 Most front-loading washers and dryers come with optional risers that include a built-in drawer. This not only saves your back when it comes time to load and unload the washer and dryer, it also provides additional storage space for dryer sheets, detergent, and other useful items.
If you're handy, you can also create your own drawers out of strong plywood or MDF material as shown in this video:
How to Build Washer and Dryer Pedestals with Drawer
Custom Cabinetry
If you have the budget, adding custom cabinetry to your laundry area can be a great way to create organized storage that works perfectly with the space you have. Here are some interesting custom cabinetry options to consider.
Hidden Ironing Board Cabinet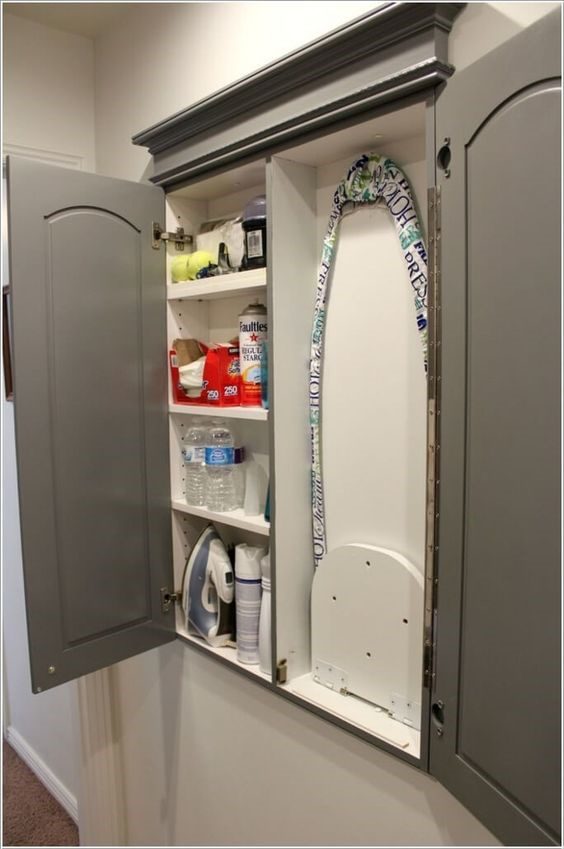 This cabinet hides a fold-out ironing board, while also providing space for the iron and other supplies.
Hidden Drawers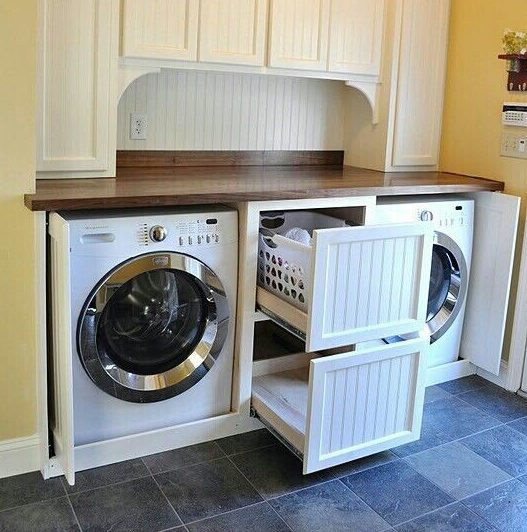 Sandwiched between the washer and dryer, these deep drawers provide the perfect storage space for laundry baskets, keeping them out of sight, yet easy to access.
Pull Out Drying Rack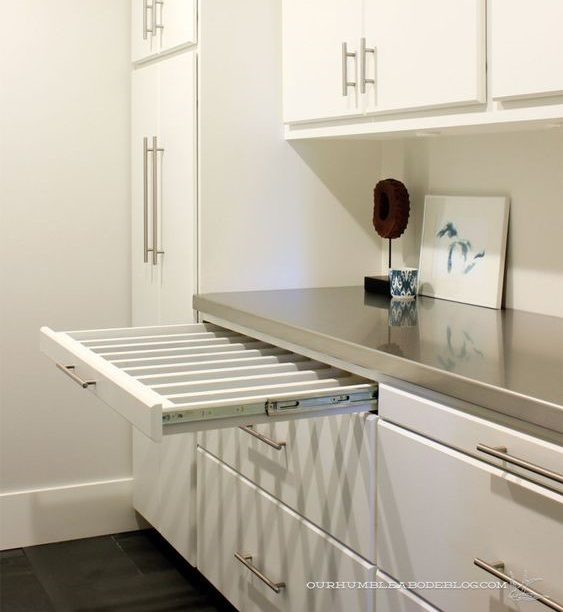 This built-in drying rack provides plenty of drying space for those delicate items, plus it hides away when not in use.
Built-In Counter Space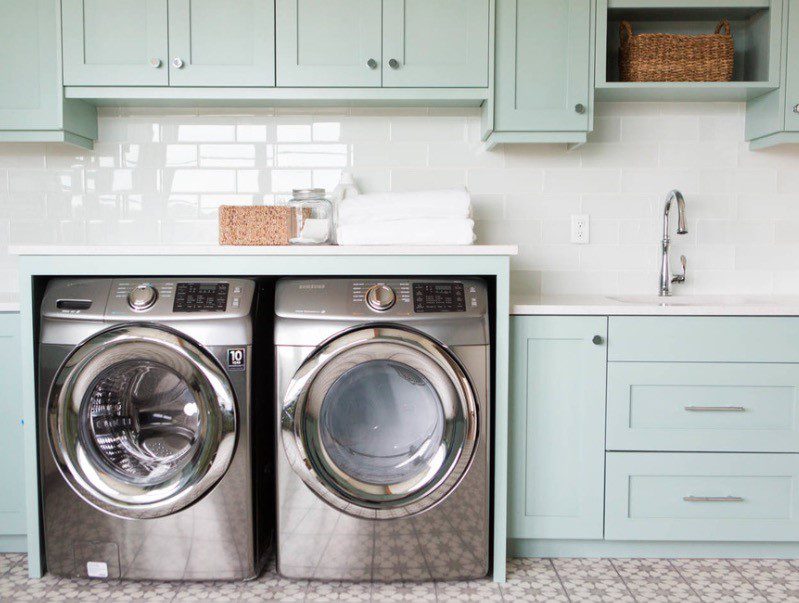 This custom cabinet surrounds the front-loading washer and dryer providing extra counter space that's perfect for folding laundry or additional storage.
Maximum Storage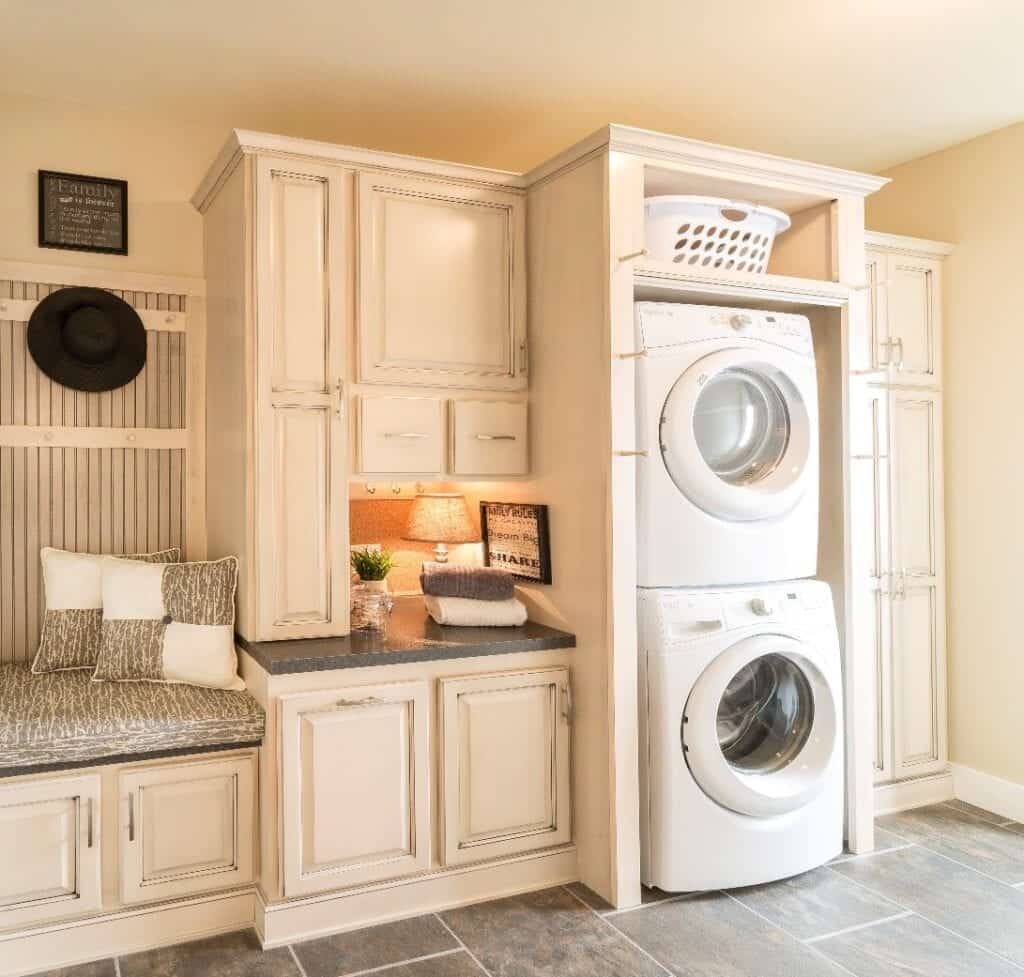 This custom laundry area built by Red Rose Cabinetry combines long, thin cabinetry, drawers, shelving, and even some convenient hanging pegs to provide plenty of storage versatility. The cabinetry around the stackable washer and dryer brings the design together and also adds a nice top shelf. We also added seating and a nice hanging area off to the side with more cabinets underneath.
As you can see, there's more than one way to reclaim wasted space in your laundry area and keep the items you use most easily accessible and organized. We hope the tips above have inspired you to find solutions for your own laundry room. But if design and organization aren't your thing, don't despair.
Red Rose Cabinetry specializes in building beautiful custom cabinetry that makes the most of the space you have, for less than you think. Visit our showroom in Lititz, PA to talk with our experts and imagine the possibilities.