Many contemporary kitchen designs with horizontal kitchen cabinets and plain hardware are cropping up in homes across the country. As trends toward decluttering, downsizing, and minimalist living continue to shape modern culture, it's no surprise that many homeowners are embracing the sleek, streamlined look. After all, the style of contemporary design works well just about anywhere.
Whether you love stark, white cabinetry and stainless-steel appliances or appreciate clean, simple lines and uncluttered spaces, there are many ways to bring contemporary design to any new kitchen project. So, what elements bring an excellent modern design to life?
When working with a customer to realize their contemporary kitchen dreams, we at Red Rose Cabinetry focus on a few elements that bring out that modern aesthetic. Let's take a closer look at what elements might be suitable for your kitchen project.
Schedule A Free Design Session
HOW DO YOU MODERNIZE WITH FLAT/SIMPLE CABINETRY?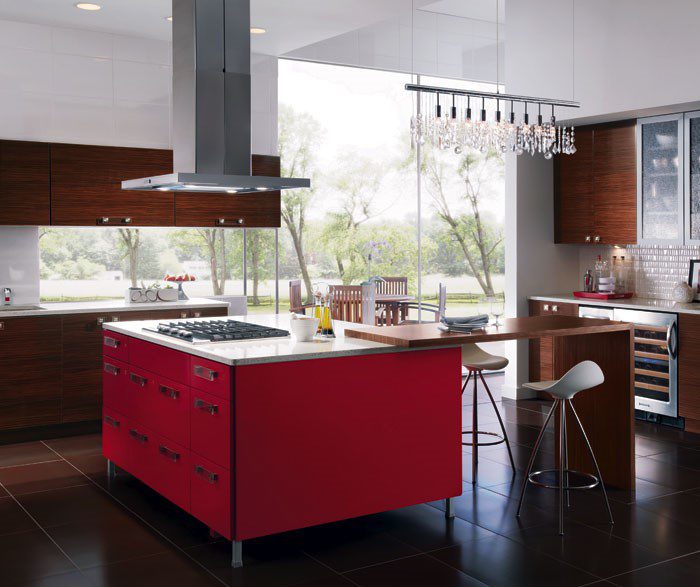 Gone are the robust hickory cabinets with ornamental handles of old; flat, simple cabinetry is a hallmark of contemporary kitchen design. That means cabinet doors where little or no door frame shows, creating an almost seamless appearance. The most popular styles for cabinet doors are slab front (flat with no decorative details) or Shaker-style with subtle, simple lines.
A homeowner or interior designer may omit cabinet hardware to further the minimalist look and feel. This contemporary kitchen uses dark, slab-front cabinetry and sleek, flat drawers on the center island.
HOW DO LINES MAKE A KITCHEN MORE CONTEMPORARY?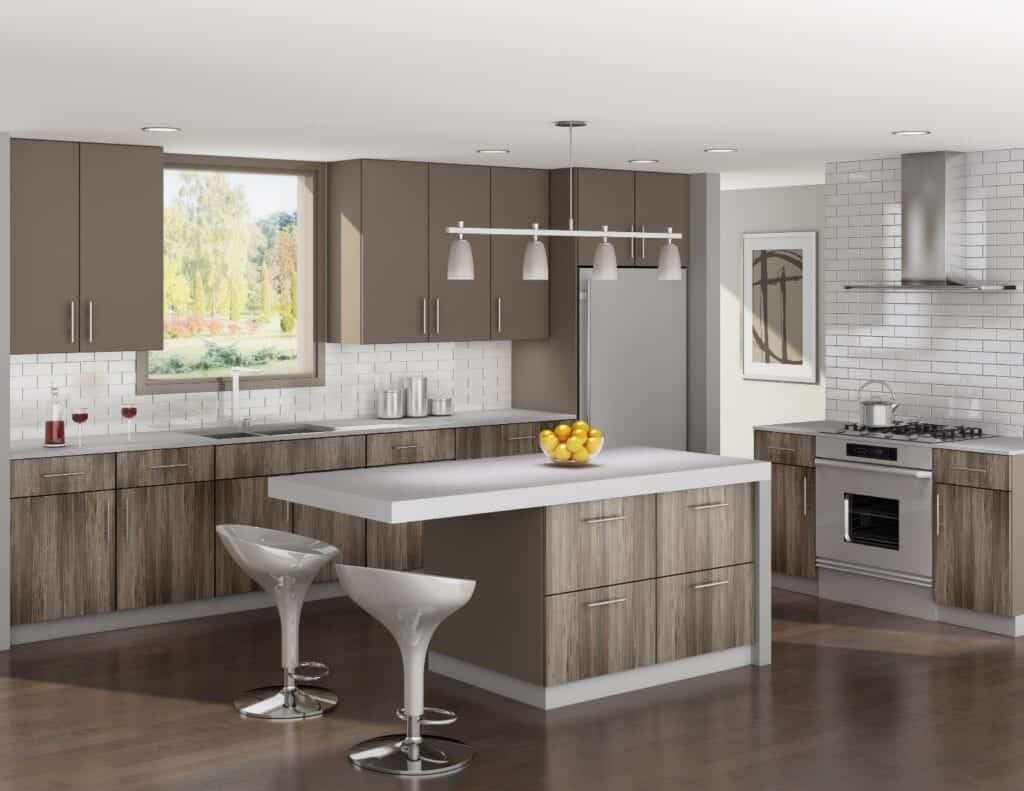 Straight horizontal or vertical lines and clean, well-defined edges are other essential elements in contemporary kitchen design. You want all horizontal lines that define the space to line up perfectly. This modern kitchen is a flawless example with straight, clean lines from the cabinetry and kitchen island to the tile backsplash and wood flooring lines, providing a sleek, sophisticated look and feel. Vertical grain cabinet patterns in the lower cabinetry also add to the design.
Today, many people with contemporary kitchens choose to hide their appliances and other "clutter" from their counters with more extended, horizontal kitchen cabinets. Some of these cabinets open by pulling up and locking in place, revealing the appliances and more ample countertop space.
WANT TO ADD INDUSTRIAL FLAIR?
Contemporary kitchen design often incorporates modern, industrial elements, including stainless steel appliances and other metal accents. Notice how the bright, industrial devices and sleek, futuristic style of the metal range hood in this example stand out against the dark, flat-style cabinetry, adding a sense of modern sophistication. Some kitchen designs even include metal seating around the kitchen island to push the look further.
HOW DO NATURAL MATERIALS FIT INTO A CONTEMPORARY KITCHEN?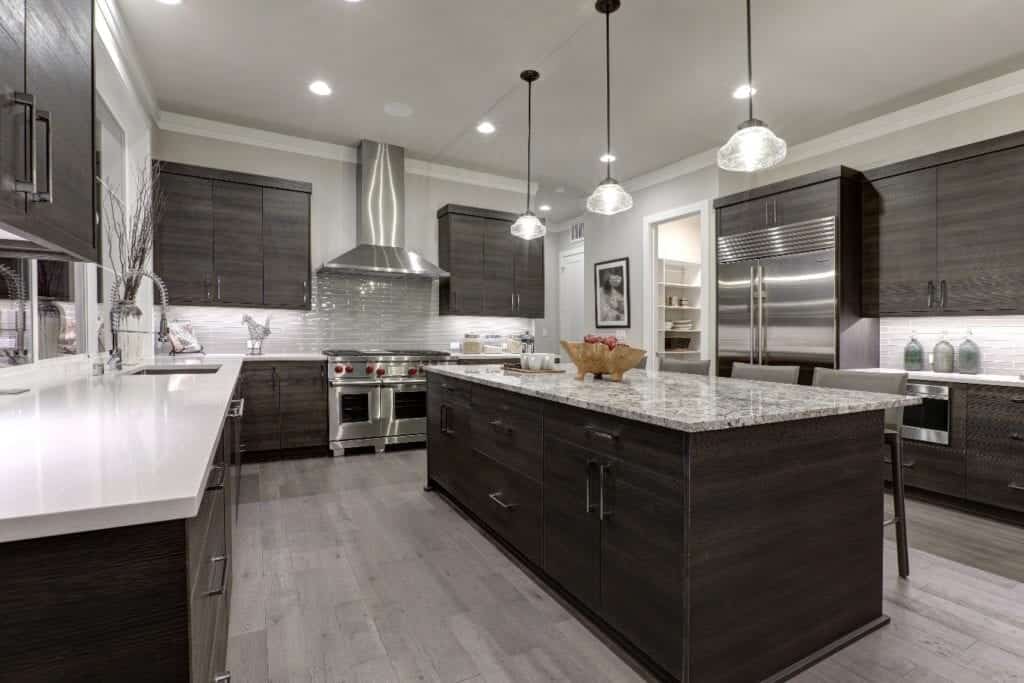 While contemporary designs can feel stark in their simplicity, a growing number of homeowners are adding natural materials to create a sense of warmth, texture, and connection with nature. The materials most often include wood, glass, or natural stone. You will find that homeowners who embrace these elements may like to see the wood grain in kitchen cabinets over a solid wood color, even if the rest of the style is more monochromatic and simple-looking.
Notice how this example kitchen combines a natural stone countertop on the kitchen island with the rich wood grain in the cabinetry. The wood floor and glass pendant lights add more texture and interest while keeping the space sleek and modern.
ADDING GEOMETRIC SHAPES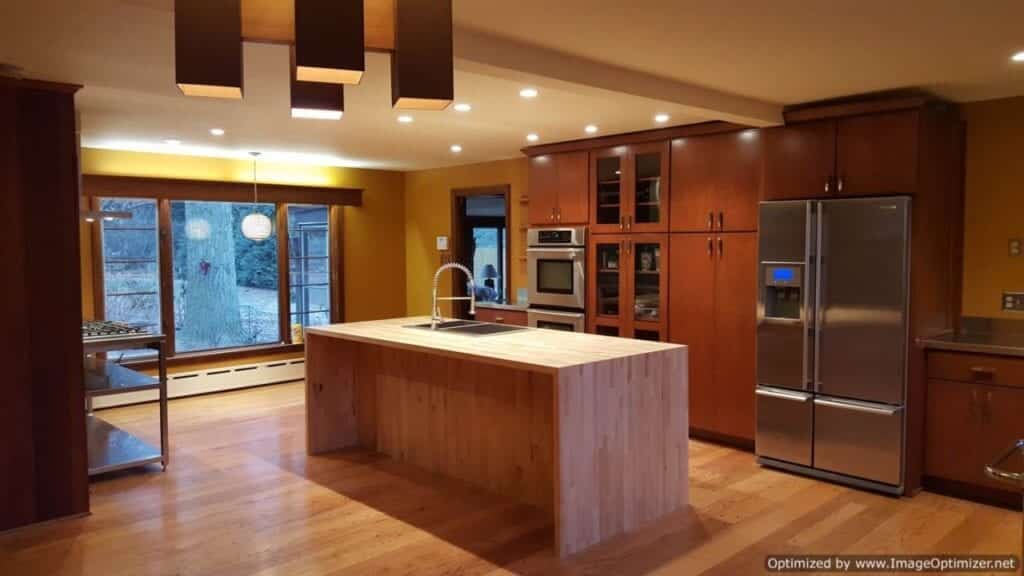 While simplicity is the name of the game in contemporary design, many modern kitchens also include geometric shapes that complement linear lines, creating exciting accents or focal points. This kitchen adds visual interest and a bit of drama with rectangular lighting fixtures suspended from the ceiling. The ball-shaped, glass pendant light and circular ceiling lights add dimension and design depth.
If you want to make your kitchen a bit more contemporary without breaking the bank, adding geometric shapes can be an affordable way to take steps toward that goal. Emphasize your beautiful wood cabinetry from Red Rose Cabinetry and focus on adding other geometric elements, like square bowls for the fruit on your counter.
Schedule A Free Design Session
WHY CHOOSE SIMPLE HARDWARE?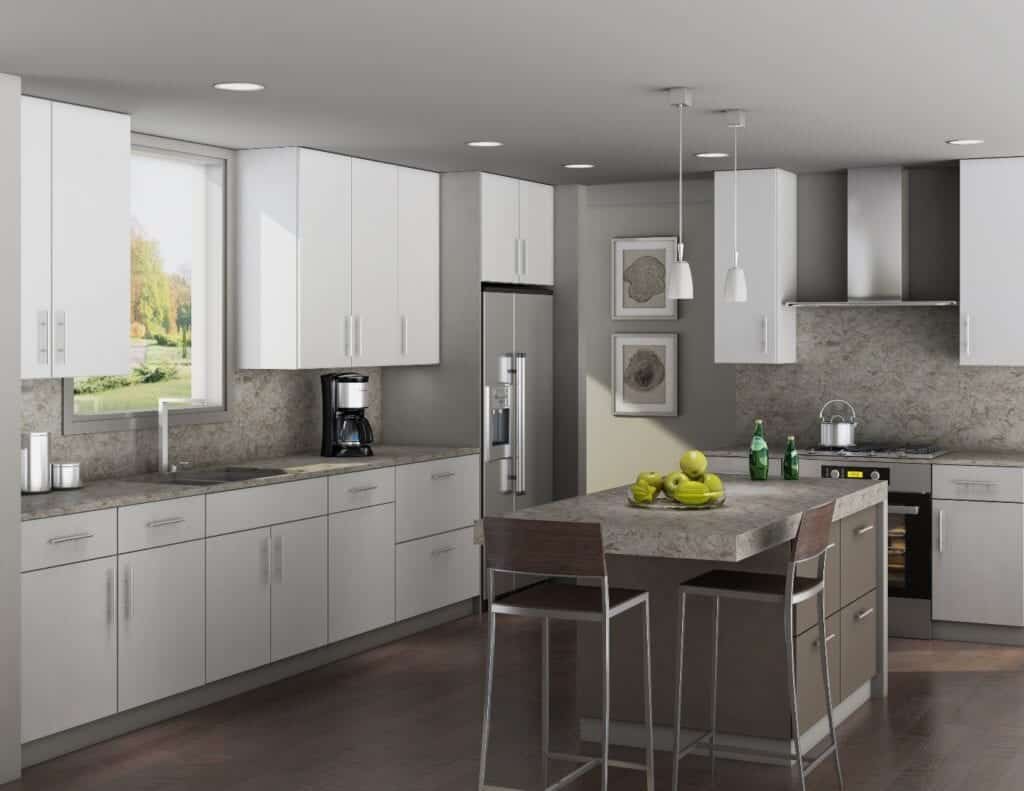 While many contemporary kitchen designs omit door and drawer hardware for a sleek, seamless appearance, the hardware still has its place. Just be sure any hardware you choose is visually simple, never ornate or distracting. Like that pictured in this contemporary kitchen, bar hardware is the most popular choice. Some widely-used hardware finishes include brushed nickel, stainless steel, or chrome.
Keeping your hardware simple will contribute to the kitchen's overall look and not distract from the beautiful cabinetry, so your cabinets will continue to stand out as the main feature.
WHY SHOULD YOU UTILIZE POPS OF COLOR?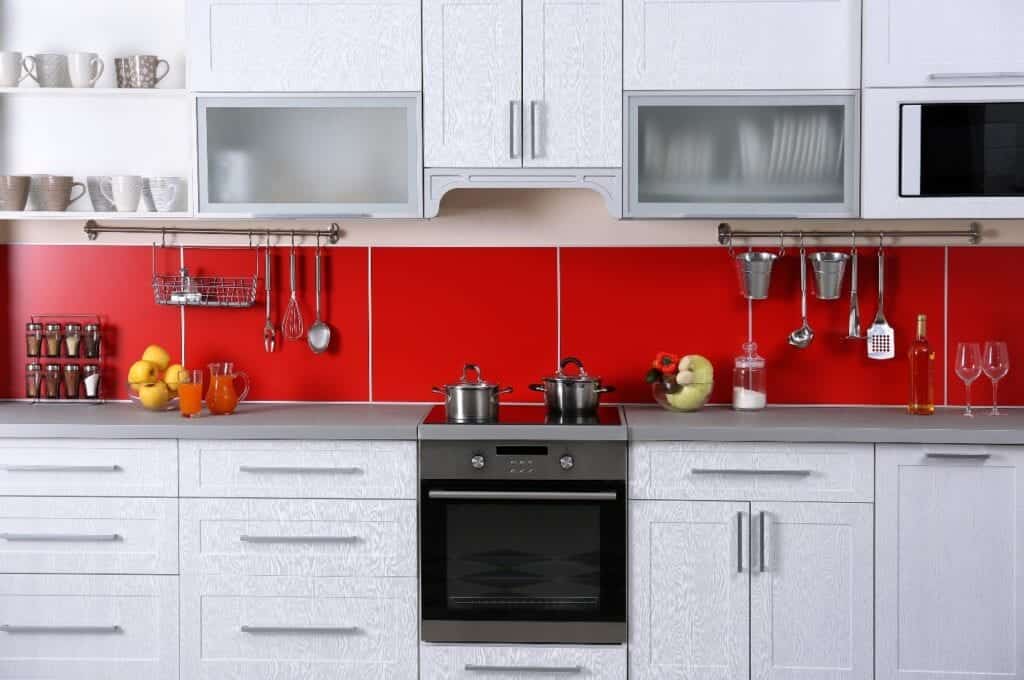 While most contemporary kitchen designs use stark whites or a neutral color palette, there's plenty of room to spice things up while keeping the design clean, sleek, and modern. One of the best ways to add a bit of flair to contemporary designs is by adding small pops of color.
A red backsplash in this otherwise stark, white kitchen adds unexpected excitement while maintaining a clean, orderly design. If an accent wall is too dramatic for your tastes, you can also add pops of color with a fruit bowl or planter, decorative seating, or modern-style curtains.
Now that you know more about the elements in contemporary kitchen design, we hope you're inspired to work some magic in your kitchen. Whether you want horizontal kitchen cabinets with solid wood faces or the more natural beauty of wood grain kitchen cabinets, a contemporary kitchen isn't out of reach.
Planning a kitchen remodel soon? Red Rose Cabinetry is here to help with beautifully crafted cabinetry and a ton of creative ideas to transform your kitchen into the gorgeous, functional space you've always dreamed it could be. Stop by our showroom, located in Lititz, PA, to explore the possibilities!